A "Winning Hand"
September 20th, 2017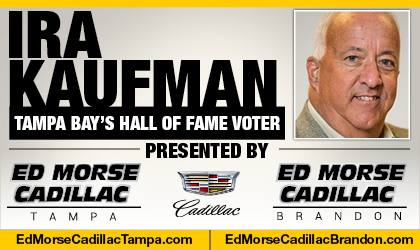 Ira Kaufman is the most beloved, revered and esteemed Buccaneers columnist in town. He has hung his hat at JoeBucsFan.com world headquarters since July 2016. Tampa Bay's only Pro Football Hall of Fame voter, Ira busts out columns here every Monday, Wednesday and Friday, and his award winning podcasts fire Tuesdays and Thursdays. You can also see Ira every football Sunday at 10:30 a.m. on FOX-13, Scott Smith's Tailgate Sunday.
BY IRA KAUFMAN
You ever get the feeling you're on a roll?
Whether you are nailing blackjacks in Las Vegas or striking it rich in singles bars, sometimes things just seem to go your way. And when that happens, you enjoy the moment, knowing adversity won't be far behind.
That's the happy place the Bucs find themselves today after a dominant season opener.
It doesn't matter whether the Bucs forced four first-half turnovers or the Bears were incredibly sloppy, the point is Sunday's game was effectively over at halftime. That 26-0 cushion gave Dirk Koetter freedom to give guys like Peyton Barber and Evan Smith a healthy dose of playing time.
Heck, even Ryan Fitzpatrick made an appearance.
If Tampa Bay isn't the league's healthiest team at the moment, the Bucs are on the short list. Although Kwon Alexander and Lavonte David suffered injuries against Chicago, there's a decent chance the Bucs will have all 22 starters ready to go in Minnesota.
In the violent world of the NFL, that's called a miracle. Have you looked around the rest of the NFC South?
The Panthers, who have struggled offensively, just put Cam Newton's go-to target on injured reserve. Tight end Greg Olsen is expected to miss at least six weeks with a broken right foot — and that absence figures to include a midseason visit to Raymond James Stadium.
The Falcons just lost their premier pass rusher, Vic Beasley, for at least a month with a hamstring tear. He's the straw that stirs the drink up front for the defending NFC champs and my bet is he will be out until November.
Who cares if the Saints are healthy? They stink.
Good Players > Good Fortune
Yes, things are going Tampa Bay's way in this early going. The next home game is against the Giants Oct. 1 … and suddenly that doesn't look like a daunting matchup.
The Giants can't protect Eli Manning and their run blocking hasn't been much better, so Gerald McCoy and company should feast when the Bucs pursue their sixth consecutive home win.
Of course, things could change in a hurry. The Bucs could fail to show up in Minneapolis and add injury to insult.
There will be some hard times for the 2017 Buccaneers. That's just the way it is for 32 NFL clubs vying for a championship.
Still, the early signs are strikingly positive and these Bucs are relying on more than good fortune. This roster has a solid nucleus of talent and character.
Depth is an issue for every team and Tampa Bay's backups have yet to be tested. That's when we'll find out if this team has the physical and mental toughness to play winning football in December.
But here in September, the arrows continue to go up. Good fortune is nice, but good players are better.
9 Strong
When luck runs out, talent can sustain you. Let's pull back for a moment and realize what the Bucs have accomplished.
In their past nine games, the Bucs are 7-2, outscoring opponents 203-144. Does that sound like a fluke?
Every week, Koetter reminds his players that the skies over Raymond James Stadium won't always be sunny and bright. Sometimes, the cards don't go your way. Sometimes, closing time finds you all alone.
Soak up the moment, Buc fans. Right now, you have a winning hand.