5 Things To Watch Against The Bears
September 17th, 2017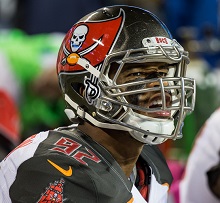 Of course, Joe's not going with the obvious here. That would be too boring.
So with the thought-provoking in mind, here are five things to consider in today's game.
1)  Will Gholston: The Buccaneers' run defense is a very different animal when Gholslton is in the game and healthy. That's why the Bucs forked over $7 million for Gholston this season, with another $6.5 million guaranteed for next season — a fortune for a guy who isn't a good pass rusher. So Joe wants to see Gholston, in his prime at 26 years old, earn his cash today. The run-first Bears seem to be a perfect test.
2) Will America's Quarterback, Jameis Winston, eat a sack? Will he give up on a play and live to fight another snap? The Bears' 3-4 defense is solid and best in its front-7. Yes, Jameis will encounter his share of pressure today. The Bucs have been preaching patience to Jameis, about as much as Joe longs to be invited to the cheerleaders' Christmas party. A big question this season is whether Jameis has matured to the point where he won't force things under pressure — or perceived pressure. The circumstances surrounding today's game make it ripe for Jameis to lose his cool. Joe wants to see if Jameis can stay composed all game.
3) Tight end snaps: Joe will be watching to see how Dirk Koetter divides the load in this game. It could provide a window into usage this season. Luke Stocker likely is a better blocker than O.J. Howard, so don't rule out Stocker getting his share of time.
4) Kevin Pamphile: It's a contract year for Pamphile, the Bucs' 2014 fifth-round pick who is a beastly left guard and extremely versatile. Dude is good football player and solid offensive linemen are paid huge dollars in free agency. There's a lack of them around the NFL. Joe expects intelligent Pamphile to come out and set a tone for this season against the Bears. Frankly, Joe thinks the Bucs already should have shown Pamphile the money and locked him up for years to come.
5) Nick Folk: Make kicking calm again, Nick. Please. It's been a horror show and a freak show for too long around here. It's unclear whether Joe's heart (or Jason Licht's) can handle another season of ridiculous kicking.