"Turning Heads"
August 6th, 2017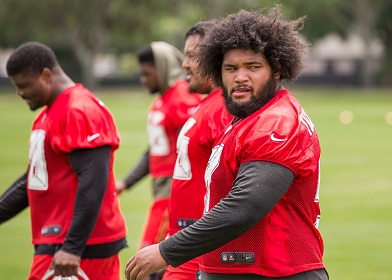 There's Joe and fans evaluating players on the training camp fields, and then there's the real evaluation behind the scenes.
Joe's got a little of the latter here.
Tampa Bay director of college scouting Mike Biehl was a guest on the official Buccaneers Insider show recently and said rookie seventh-round pick Stevie Tu'ikolovatu is "definitely turning some heads."
Interesting. The manbeast 330-pounder out of Southern California is a unique, 26-year-old, late-bloomer prospect out of the University of Southern California. He's got a long way to go to make the roster, but file that Biehl assessment away in your memory banks. Maybe Stevie T. will stick. Late-round Bucs picks in recently years have struggled to cut it, and that's no surprise.
Biehl added that his college scouting team uses training camp to study the current team, which helps give them an idea of how to attack the draft next year, as directed by Jason Licht.
"We really want to know our team when we hit the road just so when we go out we know what we're looking for," Biehl said.
Scouting does change slightly each season, Biehl noted. "Of course, when Lovie was here we graded defensive guys differently than when Mike Smith came in."
Amen to that.