"Stay Right There. I Ain't Let It Hit You."
August 15th, 2017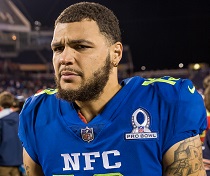 One of the great, raw football scenes in tonight's Hard Knocks episode featured the Buccaneers' biggest guns.
Mike Evans and DeSean Jackson are seen running through a drill that has them inches apart around the field.
Evans runs stride for stride with Jackson directly in front of him — intentionally. And the ball is thrown to Evans while Jackson tucks his head to not get hit. And then they switch roles.
On goes the drill, and Jackson bails out a little early on one pass. "Stay right there. I ain't let it hit you," Evans says calmly to Jackson, like a father to a son.
The process continues and viewers see Evans and Jackson appear to wrap it up. "That sh*t tiring," Jackson says earnestly. It appears it's a relatively new drill for Jackson.
Cool stuff.
It's all part of receivers coach/offensive coordinator Todd Monken's obsession with drilling contested catches. Monken finds all kinds of ways. This was not only works, but it helps the Bucs' most dangerous weapons bond.