Ryan Fitzpatrick & Brad Johnson Talkin' Jameis
August 7th, 2017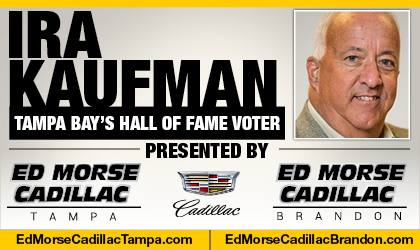 BY IRA KAUFMAN
When he's through slinging footballs, Ryan Fitzpatrick could make a smooth transition to the insurance business.
Farmers Insurance.
Yes, he knows a thing or two because he's seen a thing or two.
Fitzpatrick has made more NFL stops than union chief DeMaurice Smith, suiting up for the Rams, Bengals, Bills, Titans, Texans and Jets before signing with the Bucs as a free agent in May.
And while Fitzpatrick is not guaranteed a spot on the 53-man roster as Jameis Winston's backup, he offers a fresh and seasoned perspective on how Dirk Koetter's club is shaping up 10 days into training camp.
"This is a great set-up," he said after a recent practice, surrounded by his active kids. "In terms of where the fans can sit, how they set it up for our families, it's outstanding. You've got to love the atmosphere and vibe of this team. There's a lot of excitement, a lot of youthful energy."
Fitzpatrick's experience gives Tampa Bay a comfort level behind Winston, but Ryan Griffin's solid camp has prevented the Bucs from making it a mere formality that Fitzpatrick will replace Mike Glennon this fall.
Still, Griffin has never attempted an NFL regular-season pass and this is a team with legitimate playoff aspirations.
Koetter said the addition of Fitzpatrick has had a nurturing effect on Winston, who enters his third pro season armed with an array of talented targets.
"Jameis does a great job out here," Fitzpatrick said. "The thing that jumps out to me is that he loves football. He loves being in the classroom, he loves being around the guys. That's been super impressive to me. The way he works is going to pay off for him."
Changing Practice
Another savvy observer echoed Fitzpatrick's remarks. Brad Johnson, a former Florida State standout who led the 2002 Bucs to a championship, has followed Winston since he committed to the Seminoles six years ago, breaking Alabama hearts all the way to Tallahassee.
"They threw a lot at Jameis as a rookie and now the Bucs are taking it to a whole new level," Johnson said at Bucs practice last week. "He brings up the spirit of practice and he gives his team a chance to win, week in and week out. He's always upbeat and Jameis is a lot more athletic than you think."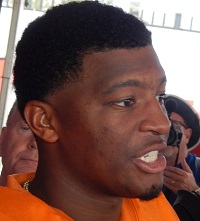 Johnson agrees with me that Winston won't ever be a 70 percent passer like Drew Brees. He's going to be Jameis Winston. By the looks of things, that's just fine.
"That's not him at all, but you don't have to play the game that way, either," Johnson said. "The game has changed a lot in the last seven or eight years."
Like Johnson, Winston is one tough customer under center. And like Johnson, Winston commands the respect of his teammates as a fierce competitor.
"This is a kid who was drafted by the worst team in the league and look where the Bucs are now," Johnson said. "They had a good chance to make the playoffs by his second season. Now, they've surrounded him with all the weapons he needs."
"Where He Needs To Be"
Between them, Johnson and Fitzpatrick played for 10 organizations. They know what a young, emerging quarterback looks like and they are both dazzled by Winston's leadership skills.
Koetter can't believe his good fortune working with No. 3. Together, they helped the Bucs set a franchise record for total offense in 2015, with Koetter serving as coordinator and Winston taking every snap as a rookie.
Among Winston's many attributes, one trait stands above all on Koetter's flow chart — his will to win. He's about scoreboard, not score sheet.
Surely, the hard knocks will come for Winston on occasion through the years. He will grit his teeth rather than smile …  and he will persevere.
"Jameis Winston," says Brad Johnson, "is where he needs to be."
Ira Kaufman is the most beloved, revered and esteemed Buccaneers columnist in town. He has hung his hat at JoeBucsFan.com world headquarters since July 2016. Tampa Bay's only Pro Football Hall of Fame voter, Ira busts out columns here every Monday, Wednesday and Friday, and his award winning podcasts fire Tuesdays and Thursdays.