Report: Gerald McCoy Injured
August 25th, 2017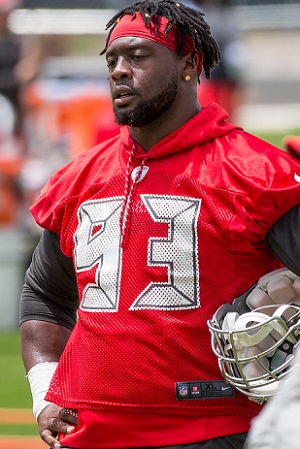 Those dark clouds you see drifting west over Tampa Bay?
They emanate from One Buc Palace.
Oh, and Saturday night's preseason Game 3 just got a lot more intriguing.
Per beat writer Rick Stroud's Twittering, Gerald McCoy is undergoing tests for a possible "groin/pelvic injury." Stroud notes the Bucs don't consider it serious, but let Joe inject a little reality; a 29-year-old defensive tackle with a preseason groin/pelvis issue is a bad thing.
Joe has fingers and toes crossed and is even willing to burn a Jameis Winston jersey as an offering to the football gods. McCoy is a vital cog in the Bucs' defense and the Bucs need him healthy on opening day in two short weeks, especially against the Dolphins' punishing running game.
Damn, Joe hopes this is nothing.
So what will the Bucs' defensive line look like on Saturday? Joe assumes McCoy is done for August.
Will Chris Baker take more than 10 snaps? Is he still nursing mysterious injuries? Will rookie seventh-round pick Stevie Tu'ikolovatu be able to man up and look like he belongs in first-team action? Can Clinton McDonald play so well for McCoy that he wins a starting job alongside him when McCoy returns?