Rank Ignorance Of Bucs/NFL
August 14th, 2017
Suits at Disney actually wonder why folks cord-cut and why BSPN has become a major drag on Disney stock's bottom line.
Now before Joe gets rolling, let Joe be perfectly clear: The following is in no way a defense of former Bucs kicker Roberto Aguayo, who the Bucs released Saturday and who was picked up by the Bears yesterday (the Bears!).
This post is to highlight what very well may be the dumbest statement Joe has ever read from a guy that has worked full-time covering the NFL for years. Guess it is a good thing if not apt the same fraud is going to be a morning radio stooge soon.
Upon learning the Bucs released Aguayo Saturday, this empty-head Trey Wingo of BSPN twittered that Aguayo was the worst pick in NFL history.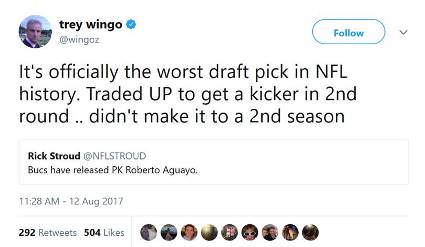 Let that abject ignorance sink in for a moment. Not even that troll Clay Travis would sink to that level. Joe isn't sure Dan Sileo would even say something that idiotic.
Worst pick in NFL history? Dear God, Aguayo wasn't even the worst second round pick in Bucs history. Additionally, Aguayo wasn't the worst second round pick in the past 15 years for the Bucs.
Da'Quan Bowers, the bad Dexter Jackson and Sabby the Goat were all worse than Aguayo. At least Aguayo won a game (at Carolina) for the Bucs, but it took Aguayo's teammates to form a televised prayer circle, asking for divine guidance to ease Aguayo's kick through the uprights.
Worst pick in history? How about Ryan Leaf? It took years for the Chargers to recover from that and how many millions did Leaf pocket? Same with JaMarcus Russell. Just now the Raiders are finally over that.
Shoot, the Bucs nearly made the playoffs with Aguayo!
This knothead Wingo claims because the Bucs traded up to grab Aguayo, that qualifies as worst pick. Hey, how about Robert Griffin III? The Redskins traded four picks (three first round picks and a second round pick) for the right to draft RGIII. That's just a little steeper of a price than Bucs AC/DC-loving general manager Jason Licht coughed up for Aguayo.
Just think folks, for the people who have been hoodwinked by BSPN and can't watch anything other than that channel, this is what passes for information from full-time staffers at the four-letter who cover the NFL for a living.
Joe could understand if some running-at-the mouth talking head like screamin' Stephen A. Smith said this, or some ex-player, but for a guy who claims to be a professional like this Wingo character, it's beyond the pale and demonstrates Wingo has zero sense of NFL history (or for that matter, Bucs history).
Of course, this isn't the first time Wingo stepped in a public pile of feces when it comes to the Bucs. And yes, for full disclosure, Joe and Wingo have a not-so-pleasant history.
Back when Raheem Morris coached the Bucs, Wingo once referred to Morris as "Radio," which was a vulgar slur and Joe called out Wingo on it.
For those not aware, "Radio" was a character played by Academy Award-winning actor Cuba Gooding, Jr. in the 2003 movie of the same name. "Radio" was a young African-American man who suffered from an intellectual disability and was befriended by a high school football team. The movie had a star-studded cast with actors who were Academy Award nominees as well as an Emmy Award winner. The movie was widely distributed and for years was on a regular rotation on major cable movie networks.
The film grossed some $52 million at the box office, not a bad piece of change for 2003, especially when the movie was filmed for a budget of $30 million.
Joe called out Wingo on this vile slur at Morris and Wingo responded by claiming he never heard of the movie "Radio" (and suggested he was referencing a character in an indie film). First, Wingo's claim is dubious at best. He works in the football world and he never heard of the football-based movie "Radio," which had well-known movie and TV stars in the cast and was shown all over cable TV for years? Smelled like ca-ca to Joe at the time and it still does.
Further, Joe has the strong sense Wingo was flat out lying. Why? His outfit nominated the movie for an ESPY Award!
Of course, when Wingo wigged out at Joe, a suit from the four-letter e-mailed Joe and had the unmitigated gall to lecture Joe on journalism ethics, which was absolutely outrageous if not hysterical! That may be the richest e-mail Joe has ever received. BSPN has been the outright worst destroyer of journalism ethics Joe has ever seen. This was the ultimate stunt of hypocrisy.
Joe has never lifted breaking news from someone and presented it as his own as BSPN has regularly done for years. And that is just one of many, many examples Joe could cite from that Disney-run joint.
(Remember when that place claimed America's Quarterback, Pro Bowler Jameis Winston, was selling autographs in college? Uh, huh.)
To suggest Aguayo is the worst pick in NFL history is laughable beyond words. A half-educated child wouldn't make such a claim.
But a guy who fronts a daily NFL show on a major cable network? That's par for the course. And if you have cable, you are paying that clown indirectly.
Wingo is too stupid to realize this Twitter of his was nothing more than a PSA for cord-cutting.
What a maroon!
(And, yes, Joe meant "maroon!")