Philosophy Change?
August 17th, 2017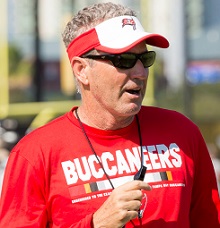 Remember the Bucs' 40-7 loss in Arizona last year, when Dirk Koetter left America's Quarterback, Jameis Winston, on the field late in the game?
And Jameis wasn't handing off. He was getting severely punished physically.
Koetter was criticized for it and he didn't like it.
That scenario played out later in the season, too. Koetter's reaction was the same as in September: Jameis stays on the field because that's how it is and Jameis isn't about to come off.
Ok. Joe got it. Koetter was fearless when it came to QB injuries and, apparently, Jameis being on the field taking meaningless hits is somehow good for the franchise.
Jump ahead to Tuesday's episode of Hard Knocks on HBO. Third-string QB Ryan Griffin injured his shoulder and No. 2 quarterback Ryan Fitzpatrick is rushed into the game. Koetter is then heard on his headset telling somebody that the fourth-string QB has to go in immediately because the Bucs can't afford to get Fitzpatrick injured.
That surprised Joe. Is Koetter now thinking more about preserving the health of his quarterbacks, including Jameis? Joe's not going to assume Fitzpatrick is more important than Jameis, so there has to be a reason Koetter all of a sudden was focused in on preserving a backup.
Koetter is a smart guy, and it's likely leaving Jameis in lost games last year was part of Koetter working to change the team culture and showcase the never-say-die drive of the franchise QB. It's the only thing that makes sense.
Hopefully, Koetter won't find that necessary in 2017.