Notes From Day 9 Of Bucs Training Camp
August 7th, 2017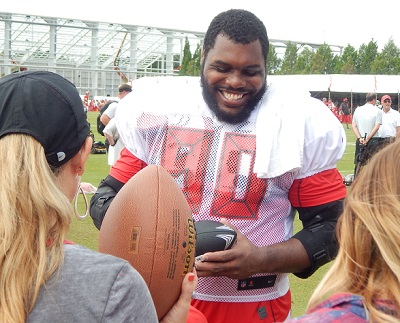 An abbreviated addition of notes from Day 9 of Bucs 2017 training camp.
* America's Quarterback, Pro Bowler Jameis Winston, looking smooth today hitting Mike Evans and Cam Brate.
* Doug Martin breaks off run up the middle where he sort of juked like Darren Sproles. Joe sure didn't see this speed or elusiveness nor vision last year whatsoever. Martin looks like a totally different running back.
* Jameis goes deep for Chris Godwin down the left sideline and… it… is… A TOUCHDOWN!
* Vernon Hargreaves limping and goes off the field. He returned later so whatever ailed him couldn't have been bad otherwise he would have been held out.
* Just when you thought Roberto Aguayo was starting to pull away from Nick Folk — SPLAT! Both kickers miss from 40-plus yards. (Full story on home page).
* Adam Humphries (Rudy!) wide, wide open on a crossing pattern from the right. Complete from Jameis. Humphries is having a helluva camp.
* Tight end Cam Brate is having a fine morning, not that he has had a bad practice this summer. He's ready for the regular season.
* Jameis throws a dart to O.J. Howard down the right seam.
* Jameis is sharp in 7-on-7 drills.
* Although the play was over. CFL legend Derel Walker has ball punched out of his hands after a catch. It's barely August and the dude already has a rep.