Malcolm Glazer Was A Bucs Badass
August 4th, 2017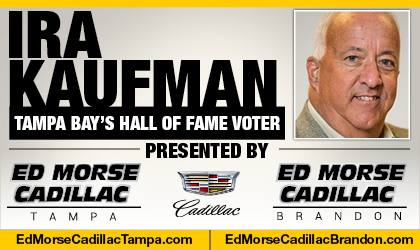 Ira Kaufman is the most beloved, revered and esteemed Buccaneers columnist in town. He has hung his hat at JoeBucsFan.com world headquarters since July 2016. Tampa Bay's only Pro Football Hall of Fame voter, Ira busts out columns here every Monday, Wednesday and Friday, and his award winning podcasts fire Tuesdays and Thursdays.
BY IRA KAUFMAN
The facts are in and the conclusion is uncommonly clear.
Malcolm Glazer was a badass.
Don't be fooled by the red beard, the specs and a belt buckle worn unusually high. The late owner of the Buccaneers would have been very proud of this confident football team and Dirk Koetter's aggressive approach.
Koetter wants relentless drive, attention to detail and commitment — Glazer embodied these qualities until his death in 2014 at the age of 85.
It was no surprise that most of the attention in Wednesday's Ring of Honor news conference was focused on Jon Gruden, but it is Malcolm Glazer who reigns as the most important figure in franchise history.
Don't take my word for it.
"He had a vision, he had the guts, he had the courage to make this purchase and change the destiny of this franchise," Gruden recalled. "The leadership that Malcolm Glazer had, the genuine care that he had for me as a person, will never be forgotten."
Remember the image of Glazer walking through the southwest tunnel at Raymond James Stadium on the night after the Bucs won the Super Bowl? He carried the Vince Lombardi Trophy aloft like a warrior celebrating victory at the Roman Colosseum while thousands cheered.
Glazer will be the 10th member inducted into the Ring of Honor when he is recognized Oct. 5, during halftime of Thursday Night Football against the Patriots.
When it comes to his business and his sports teams, Malcolm Glazer deserves to be considered a badass.
Ridicule To Riches
He came from nothing, a self-made millionaire who sold watches and knew it would soon be his time. He built a fortune but never undersold his wife, Linda, or the six kids.
And when the opportunity arose to purchase a forlorn NFL franchise, Glazer would not be denied. He invited ridicule by paying $192 million for the Bucs in 1995, a record price at the time, and within a year he hired a new head coach to replace Sam Wyche.
That man, Tony Dungy, now has a bust in the Pro Football Hall of Fame.
Soon, new uniforms and a new stadium would follow. And there was big-time success, with Malcolm always on hand to shake victorious hands in the locker room.
He lobbied hard to land Super Bowls for the Bay area and always supported Dungy's initiatives to make the Bucs an integral part of the community.
Above all, he wanted to win.
When he reached the NFL summit on that unforgettable night in San Diego, Glazer soaked it all in and let down his suspenders.
"First, I want to thank coach Gruden for what he did," Glazer bellowed from a makeshift platform at Qualcomm Stadium. "He came from heaven and he brought us to heaven. We've got the greatest players in the world. They're the Tampa Buccaneers, and if you haven't heard about them, you heard about them today. And we've got the best fans in the world. Tampa Bay, Tampa Bay, Tampa Bay … we love you."
That was a rare show of emotion from Glazer, a private man in a public arena.
Humble Roots
I was waiting on a flight to Phoenix for the NFL meetings in 2003, less than two months after the Bucs routed the Raiders. Malcolm and his wife were on our plane and they sat a few rows in front of us — in coach.
He never forgot his humble roots.
"I remember going to the owners' meetings every year and sitting with him," Gruden said. "The only thing that he cared about was if I was happy. Where I was living, how my kids were doing – and it was genuine and it's something you can't replace."
Glazer also had a special relationship with Dungy, who singled him out a year ago during his Hall of Fame acceptance speech.
"I'm especially grateful to Malcolm Glazer, who was so supportive and so loving and gave me so much practical advice," Dungy said.
In 2005, with Dungy entrenched as coach of the Colts, Glazer attended the funeral of 18-year-old James Dungy in Tampa. Two grieving souls shared a long embrace.
"We took a lot of bus rides to the airport," Dungy said, "and Mr. Glazer would sit on the front seat. Every time Jamie would come on, he would talk to him. He never talked to him about football. He always talked to him about being a good son, and then he'd talk to me about taking care of my boys and being a good dad — every single trip we took."
See what I mean?
Badass.