"Making Sure Our Body Language Is Infectious"
August 16th, 2017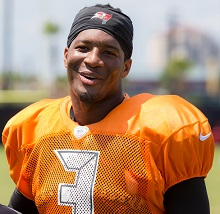 It's so rare to get any kind of glimpse into how America's Quarterback, Jameis Winston, is coached up within the pearly gates of One Buc Palace.
We got that last night on Hard Knocks. 
In a scene in which quarterbacks coach Mike Bajakian is lecturing his QBs on the field about how football "is a game of momentum," Bajakian tells his troops that they can control that in various ways.
Among them, per Bajakian, is getting in and out of the huddle quickly and confidently. And Bajakian tells Jameis and friends that they should be "making sure our body language is infectious."
Interesting metaphysical kind of line there. That's a very Jameis thing. Jameis is all about leading with every fiber of his being — mind, body and spirit.
Perhaps the best part of that scene is the Stick Carriers chanting heard. "We ready. We ready. Weee reh-deeee Tampa Baaayy!" Keep in mind the Training Camp Takeover crowd was probably 50 yards away, and there was a music bed under Bajakian's chatter.