She Was Like, 'Oh My God. Can You Do Something Good On TV?'
August 28th, 2017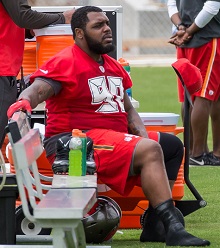 Some Buccaneers are known for their motor.
So far, new Bucs defensive tackle Chris Baker is known for his motor mouth and televised pelvic thrusts on trees.
Yes, Baker has had a vacation-like journey through his 5 1/2-month tenure with Tampa Bay. Joe's not diminishing what Baker has done, but there's a lot he hasn't done — or been asked to do.
"The coaches have done a great job this offseason keeping the reps down for guys like myself. I feel good," Baker told WDAE-AM 620 last week.
Baker said he works his butt off and was upset by claims out of Washington that his work ethic is questionable. He said his nine-year-veteran status is proof he's a worker no matter what anyone says.
Regarding Baker's bizarre romance with a palm tree, as seen on Hard Knocks last week, Baker said his wife was not a big fan. "She was like, 'Oh my God. Can you do something good on TV?"
Baker, who turns 30 in October, also added that he's pleased to be one of the "belly bros," a term he referenced on Hard Knocks. Keys, per Baker, are good eating and drinking "a couple of beers."