Koetter Says He Would Set Up A Field Goal Tonight
August 11th, 2017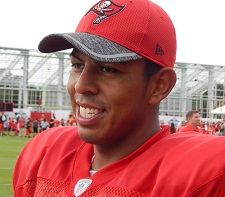 It has come down to this.
The discussions have been had internally at One Buc Palace. And there's no doubt the Vegas oddsmakers are paying attention.
The Bucs need to see their field goal kickers in game situations, and they'll make it happen in the preseason if they have to.
That was the word from Dirk Koetter on SiriusXM NFL Radio on Wednesday. Koetter was asked point blank by host Pat Kirwan, the former Bucs scout, Jets coach and Jets personnel chief, whether he would break from the traditional to force preseason kicking situations for Roberto Aguayo and Nick Folk.
Pat Kirwan: No place is like here [in training camp]. When the kickers go to kick field goals, the entire crowd starts watching. I mean, there's a sense of urgency, if you want to call it that, about the kicking situation. I watched all those fans. A lot of times when the kickers come out and kick field goals in practice people get a soda or something.  … In a preseason game, in which you're just trying to evaluate, could you use a situation where normally you might go for it or you might try a punt,  you might just say, 'it's time to see these kickers kick.'

Dirk Koetter: I think that could come up. I mean, it's a little bit luck of the draw. But we've talked, [special teams coordinator] Nate Kaczor and I, about some things that we'd like to see come up. If the right situation comes up, I think we would do that.
Joe was calling this months ago on the Ira Kaufman Podcast. Just like you can't simulate rainy conditions at training camp, you can't simulate real field goal kicking. It's impossible.
And since Aguayo and Folk each have been average at best through camp, the Bucs are desperate to see them each get plenty of preseason work at various distances.
Get ready, Bucs fans. In the second half tonight, you might see Koetter actually smile on 3rd-and-long from the Bengals' 34 yard line.