Pretend Season Is Just That
August 28th, 2017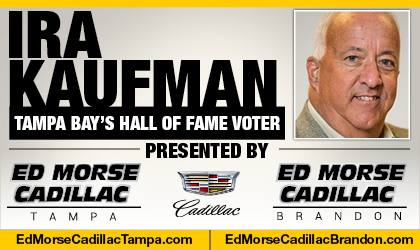 Ira Kaufman is the most beloved, revered and esteemed Buccaneers columnist in town. He has hung his hat at JoeBucsFan.com world headquarters since July 2016. Tampa Bay's only Pro Football Hall of Fame voter, Ira busts out columns here every Monday, Wednesday and Friday, and his award winning podcasts fire Tuesdays and Thursdays.
By IRA KAUFMAN
The NFL preseason is essentially behind us and the Buccaneers are one of the league's big winners.
Yeah, you heard me.
Forget about the 1-2 record heading into Thursday night's preseason finale. You think the Glazers are pressuring Dirk Koetter to play regulars against the Redskins so Tampa Bay can even its exhibition mark?
The Browns are 3-0 right now and the NFC champion Falcons are 0-3. The 2008 Lions were unbeaten during pretend season and 0-16 once the games began to count.
The Bucs are major winners because their medical staff hasn't been forced to work overtime tending to major injuries. There's even a chance it will be all hands on deck for Buc starters Sept. 10 at Hard Rock Stadium, where the Dolphins are trying to overcome the loss of quarterback Ryan Tannehill.
The No. 1 priority for every NFL coach in August is to emerge relatively unscathed. Health is always a major factor in determining team fortunes and right now, the Bucs are relatively good to go.
"The majority of our injuries have a chance to be back and should be back for the Miami game," Koetter said following Saturday night's drab 13-9 loss to Cleveland.
In their breakthrough 1997 slate under Tony Dungy, the Bucs went 1-3 in the preseason.Then the powerful 49ers sauntered into town and Tampa Bay engineered a stunning upset to trigger a 5-0 getaway.
HIPAA Festivals
Have you seen what's going on around the league this summer? Key players are falling from Seattle (left tackle George Fant) to New England (Julian Edelman).
Kansas City's Spencer Ware is done for the year and Dallas middle linebacker Anthony Hitchens is sidelined eight weeks with a fractured knee. Giants stud Odell Beckham Jr. may not be ready for the season opener and Tyrod Taylor is dealing with a concussion.
In Tampa, a quiet confidence still prevails that the 2017 Bucs will end that nine-year playoff drought.
"We've got to be better than that," Cameron Brate admitted after the lethargic effort against the Browns. "It seems all preseason that we've kind of been able to move the ball at will. But we've had self-inflicted wounds … penalties, not taking care of the football. Luckily, it's just preseason, but we have to get better before Miami."
In August, it's better to be healthy than precise. That's not to say the Bucs have shown the kind of crisp execution Koetter craves.
Jameis Winston will end the preseason without a touchdown pass and the ground game remains underwhelming. It would be comforting to see more of a pass rush and fewer flags.
"This game isn't where we're at as a team," said Ali Marpet. "It's not a representation of what we can do. Obviously one of our goals is to start fast — but we didn't. I know we were missing a lot of guys, but if you're keeping score, it counts. We want to put a good product on the field, and we didn't deliver."
Acts Of Sabotage
Koetter and his staff have been thinking about the Dolphins since the schedule came out in April. No one is going to remember a rainy, sloppy Bucs-Browns matchup once the real season comes along.
Thursday's game is for the guys on the bubble trying to stick with the Bucs or put enough on tape to impress another team. Winston will be a cheerleader, along with Mike Evans, DeSean Jackson, Gerald McCoy, Lavonte David, Kwon Alexander, Demar Dotson and Brent Grimes.
The next time you see key starters flying around, the Bucs and Dolphins will be tangling in the heat.
Some NFL coaches like to break down the regular season into quarters, so let me do the math for Mr. Koetter. In the past five seasons, the Bucs are a combined 4-16 through the first quarter.
That's not just putting yourself behind the 8-ball, that's an act of sabotage.
While other teams are banged up, the Bucs should be charged up to face Jay Cutler, Mike Glennon and Sam Bradford. Murderer's Row, this is not.
The Bucs will get on that team plane a healthy bunch, brimming with hope and young talent.
"We know how good we can be," said Marpet. "It's all about cleaning up some details."