Inside Jameis' Leadership
August 23rd, 2017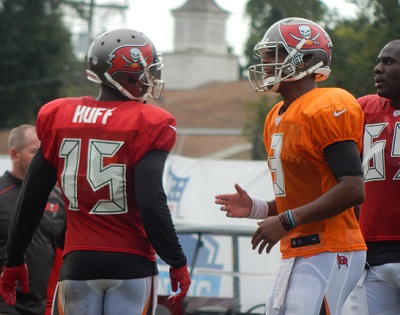 Great scene in Hard Knocks last night when America's Quarterback, Jameis Winston, doesn't like what he sees from the Buccaneers' second-team offense.
It was during practice last week against the Jaguars, and it reminded Joe a lot of last year, when Jameis ripped Austin Seferian-Jackwagon a new on that same Jacksonville practice field while ASJ was running with the second team.
Last night's scene showed running back Peyton Barber taking a handoff from Ryan Fitzpatrick, and Barber is quickly hit in the backfield by Jags DE Dante Fowler, Jr. In fact, Fowler nearly rips Barber's head off and tackles him, in part, by the helmet.
Jameis didn't like the looks of Barber's effort and jumped all over him seconds after the play.
"Hey Peyton, don't go in that hole on that soft sh!t no more," Jameis said. "No. No. Listen to me. Bring the noise, man. It's another team. Look me in my eye. Bring the noise. [Gotta] win. You can't take it easy on nobody."
Joe wonders if Jameis would say the same thing after he watched film of the play, but that doesn't matter. The message was sent — and powerfully sent.
In the next scene, camp meat quarterback Sefo Liufau tries to advise Jameis that something isn't worth him getting worked up at practice. Jameis fires back that it is worth it because everything is "win or lose" on the field.
"This is practice. This is competition, every rep," Jameis barks.
Great look inside Jameis. Joe stood and saluted the flag.