"He Most Obviously Dominated"
August 14th, 2017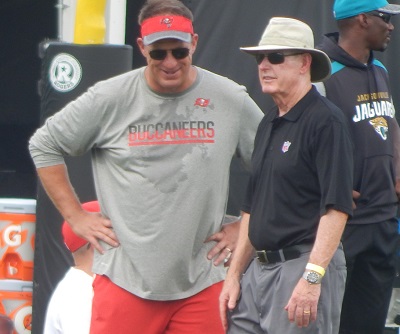 You beloved Bucs practiced against the Jaguars in Jacksonville today.
Even though Lovie Smith was dead set against practicing against another team, it is a beneficial process.
As Dirk Koetter has said, simply the lack of predictability from the opponent is great work, as is the bonding of the team on the road at their downtown Jacksonville hotel.
Joe was not at practice today but will be there tomorrow.
Per Scott Smith of Buccaneers.com, who reviewed practice on his Buccaneers Insider show with Casey Phillips, offered his three "favorite things" out of today's session.
*On the first play against the Jaguars, DeSean Jackson beat his man in 1-on-1 coverage and caught a bomb from America's Quarterback, Jameis Winston. The defensive back was beaten early, per Smith, and simply couldn't close the gap in the sprint to catch Jackson on the route. Perfect pass by Jameis, as well.
*Noah Spence was impressive in 1-on-1 work against the Jaguars offensive linemen. "Of all the defensive linemen, he was most obviously dominated both of his snaps," Smith said.
*Nick Folk was 5-of-6 in the field goal period, including one kick from beyond 50 yards.
Stick with Joe for more from today's session.