HBO, Hackers and "Hard Knocks"
August 4th, 2017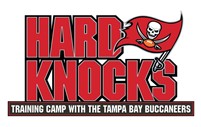 For those that like to navigate the deep, dark recesses of the internet, this story is for you.
Apparently, HBO is a victim of hackers who claim they've obtained all sorts of broadcast content that has yet to be aired. For some reason not quite clear, the hackers, per Variety.com, plan to release the unaired HBO content in stages possibly beginning this Sunday.
What does any of this have to do with the Bucs? Well, in case you just returned from a cave in Afghanistan, the Bucs will be featured on "Hard Knocks" this summer beginning Aug. 8. The show, an NFL Films-produced reality series, just happens to be broadcast on HBO.
Now Joe seems to recall, but can't remember the specifics, hearing an interview a few years ago with the late Steve Sabol, one of the long-time executives of NFL Films and son of founder Ed Sabol (who eye-RAH! got into Canton). Steve Sabol said the production of "Hard Knocks" sometimes goes right up until a handful of hours before airing. So if that is the case, HBO likely won't have a "Hard Knocks" finished episode on Sunday.
But Joe guesses NFL Films/HBO has plenty of raw footage, hundreds of hours.
The hackers claim they will release content on a weekly basis. But, they aren't chained to any sort of deadline.
Joe can only find so many rabbit's feet in an effort to motivate these cyber-vandals to upload whatever "Hard Knocks" footage they have. "Ballers," too!
(When Joe signs up for HBO next week in order to get "Hard Knocks," Joe plans on binge-watching "Ballers" during the short window Joe will have HBO. Watching the rest of Season 2 of "Last Chance U" can wait — is Joe the only weirdo that thinks team academic counselor Brittany Wagner is sorta, kinda cute in a haunting way?)