"These Guys Know I'm Not BSing Them"
August 24th, 2017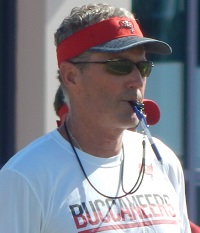 What's it like to practice on a Dirk Koetter team?
Well, Koetter and his staff are going to be hard on you, even if they're wrong and must apologize later.
Koetter explained today that he feels obligated to be candid and uncensored in practice in order to be true to his craft and players. There are no maybes, Koetter explained, he's reading and reacting and will clean up any messes when they're spotted.
"I like to trust my gut out here. I mean, I like to tell these guys what I'm thinking, because I think we gotta keep it real with the players," Koetter told WDAE-AM 620. "These guys know I'm not BSing them. If I don't like it, I'm going to tell them. If I do, I'm going to tell them. I think you just got to be honest. Hey, I've gone [into meetings] plenty of times and told them I was wrong about this or I was wrong about that. But I'm right more than I'm wrong."
Gotta love the Koetter approach and mindset. "Authentic" comes to mind, which always plays very well in any locker room, office or podcast.
Joe sure hopes one of Koetter's in house corrections shows up on Hard Knocks. Joe can already envision a guy getting chewed out on HBO, and then 30 seconds later he magically appears in a meeting room getting a "My bad" from the head coach.