Finally!
August 11th, 2017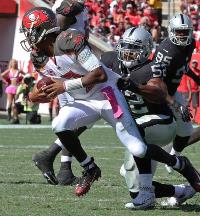 Like legions of Bucs fans, Joe is fired up today for one the great days of the year, the preseason opener.
After nearly 7 1/2 months of no football, finally, finally, finally, the Bucs face a real opponent again.
What a smile will cross Joe's face at 7:30 p.m., when kickoff comes in Cincinnati.
Tampa Bay running backs, for the first time since January, will be asked to break tackles and find holes behind offensive lineman who are cut blocking and doing everything they can to punish the opposition.
Defensive linemen can finally hunt a quarterback and actually get in his throwing lane and close for a hit.
It's honest football, not the training camp brand. Who couldn't adore this kind of football?
Of course, if you're paying top dollar to watch it, well, that can be a downer when the starters exit after one quarter, which is Dirk Koetter's plan against the Bengals tonight.
Enjoy it, Bucs fans. And the TV ratings, as they always are for the preseason opener, will be huge.
And if you want to join the Stick Carriers in a high-octane Bucs watch party with hundreds of fans, the action is at Sports Legends Bar & Grill in Clearwater. Arrive early. Stay Late. Celebrate what this day represents.