Complete Game For Peyton Barber
August 18th, 2017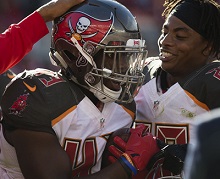 Yeah, it was the second half of a preseason game, but running back Peyton Barber sure looked the part last night. 
Joe's going to call it a complete game.
The 23-year-old, second-year man out of Auburn checked all the boxes: feet, vision, patience, power and pass protection. And he looked great on special teams.
That's not just Joe assessing.
Joe knows there's a buzz about Barber this afternoon at One Buc Palace. And that's nothing new. Barber answered the bell last year as an undrafted rookie in the limited times the Bucs called his number.
Joe remembers humble general manager Jason Licht waving off props on the Buccaneers Radio Network last year for finding a gem on the street in Barber. Licht reminded host Gene Deckerhoff that Barber was a 1,000-yard rusher at Auburn, so he certainly was no hidden prize.
But in reality, Barber might be just that. His line last night was nine carries for 42 yards. His longest run was 13 yards.
Joe was impressed by the overall maturity. Barber's game didn't fit in with the future beer truck drivers and grad students on the field in the second half. But that also means he was power running behind the Bucs' second-team offensive line.
It'll be interesting to see if Barber gets more of a meaningful look in preseason Game 3.