Competition Over?
August 20th, 2017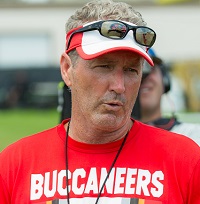 The Buccaneers' search that started in earnest after a nasty break on January 3, 2016, may be over.
That's the day fullback Jorvorskie Lane suffered a horrific leg injury against the Panthers.
That left the Bucs without a fullback and they drafted one a few months later, sixth-rounder Dan Vitale, who was cut after training camp. The Bucs went fullback-free last season with tight ends filling the role.
And while the Bucs could always go without a fullback, like many teams do. Joe is confident old school Dirk Koetter still desires one. That's why Quayvon Hicks was signed in the offseason and the Bucs kept late-December signing Austin Johnson, who spent 2014 and 2015 at fullback with the Saints.
Johnson, the former University of Tennessee linebacker, has had plenty of touches with the first-team offense this summer. And this morning, Hicks was cut.
Johnson may be invisible to a lot of Bucs fans, but Joe would wager that Johnson has found himself a job.
Frankly, Joe hasn't been impressed by the special teams play of the Justin Evans and Kendell Beckwith. Valuable Luke Stocker is known for getting banged up, and Joe's not sure how much special teams the Bucs want O.J. Howard and Cameron Brate playing.
They need quality bodies on special teams, and Johnson can get the job done there.