"Coach Him Harder"
August 10th, 2017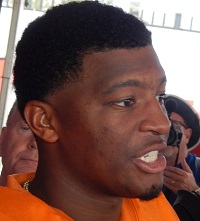 You think winning head coach Dirk Koetter was hard on America's Quarterback, Jameis Winston, during the premiere of Hard Knocks?
Don't worry about that one bit.
That was part of the message from Koetter yesterday on NFL Network.
Koetter explained that Jameis can handle it — and he craves it.
"He's probably told me that at least 20 times in the last three years, that I need to coach him harder,'" Koetter said. "I was a little worried when I previewed the Hard Knocks show and I was saying some bad words to him.

"You know, Jameis can take it. And Jameis, he's such a great competitor. Jimbo Fisher coached him hard. You usually don't have to coach him hard because he does almost everything right."
It's pretty clear Jameis has been handled with expert hands by Lovie Smith and Dirk Koetter since being drafted in 2015. Their combined touch has been magical.
Joe has the utmost confident in Koetter knowing how/when to coach up Jameis. Not only is Koetter proven with Jameis, but he a savvy team around him and has the street cred of top-10 offenses with Jacksonville and Atlanta.
Look for Jameis to keep yearning to be coached with a big stick.