Chris Baker: "He's Our One Guy That's Kind Of An Asshole"
August 2nd, 2017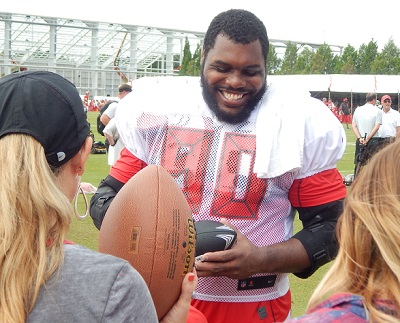 Joe went 1-on-1 today for a friendly chat with new Bucs big-money defensive tackle Chris Baker, who made his practice debut in pads. Here's the on-the-record portion. Enjoy!
JoeBucsFan.com: How was it to get out there, first time in pads with new teammates?
Defensive tackle Chris Baker: It felt good, you know, this team is very special here. We're really deep on both side of the ball at every position. That's something I haven't been around for a long time. Plus, it's a great group of guys here.
Joe: Did you line up across from J.R. Sweezy?
Baker: We've been banging around every since OTAs. He's doing a good job. He's really stout there at guard. We're having fun competing.
Joe: Did you play against Sweezy when he was on the Seahawks. Do you remember going against him? What's the scouting report on him? His offensive line mates say he's so mean. What do you think?
Baker: He's the guy that you love to have as a teammate but hate to go against. He's very aggressive. Every offensive line needs that one asshole. He's our one guy that's kind of an asshole.
Joe: Fans here you say, 'I haven't been around a team this deep in a while.' And they get that. But what about the mentality of this team now?
Baker: There's really a lot competition, and that makes things very healthy here. But at the same time, all the guys have come together and want to win. Both sides of the ball competing each and every day. It's fun to see.
Joe: Yesterday you missed practice and Joe was told it was "precautionary." What's going on? How are you?
Baker: I'm just, nine years in, man. You got to take your off days when they give them to you and just continue try to get better and healthy.
Joe: Hard Knocks, should we expect to see you? Have they been around you or gone back to your home?
Baker: They haven't gone to my house, but I'm definitely in front of the camera. Hopefully, I get some good stuff on HBO and become very famous and get my own TV show.
Joe: How can you describe the Hard Knocks experience?
Baker: You can have a lot of fun with Hard Knocks; you're just alert that more cameras are around. A lot of the guys love it. A lot of the guys have a lot of fun with it. At the end of the day, we're here for work. Hard Knocks just wants to see how we work, so we're showing them.