Day 8 Training Camp Notes, News & Nuggets
August 5th, 2017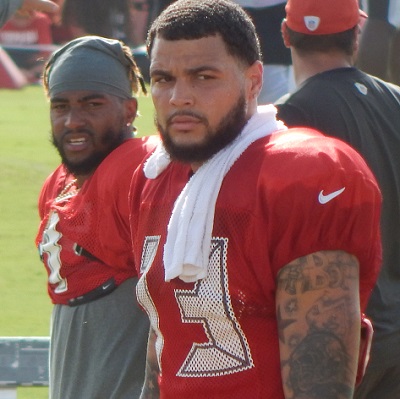 It was the fourth consecutive day for the Buccaneers practicing in pads, aka the brutal grind of training camp, but the team got a pick-me-up from an overflow crowd that required the fire marshals to assess the spacing and safety. It was the cheering Stick Carries you've heard so much about here. But there was PLENTY of football happening on the field. And Joe was patrolling the sidelines for all the good nuggets. Enjoy!
*The chanting from fans starts long before the bell rings at 8:45 p.m. Players names are yelled in unison until they acknowledge the crowd, and then the fans move to the next player. Ali Marpet seems very intrigued. Nearly all the Bucs play along. Vernon Hargreaves appears jacks up out of his mind.
*Some dude near Joe looks to be in 70s with his wife has been checking out Bucs cheerleader poster as if he is studying for an exam.
*America's Quarterback, Jameis Winston, rolls right and hits Adam Humphries. More designed movement from Jameis today.
*TOUCHDOWN! Jameis 15 yards to DeSean Jackson today. That combination had a heck of a day. Memo to NFL defenses: If you are going to jump the route on DeSean Jackson you better get your hands on the ball.
*Jacquizz Rodgers with a 1-yard run.
*Toe-tap 10-yard completion to Jackson from Jameis. Wide open in the back of the endzone.
*Ryan Griffin drills a TD throw to Donteea Dye. Hey Jude Adjei-Barimah motions for pass interference on Dye. Not a great camp for Jude.
*The fans continue to chant for players and coaches. Mike Smith is showered by "Smit – TEE! Smit-TEE!
*Drill work bomb from Jameis to Jackson. Had to be 50 yards. Hargreaves is beaten.
The Stick Carriers were making a ruckus and a "Hard Knocks" crew sprints to capture it on film. Pretty sure the Stick Carriers will be on "Hard Knocks" in some form Tuesday night.
*Keith Tandy breaks up Jameis pass intended for O.J. Howard.
*Jameis is rushed from the right on a blitz and throws a pick.
*Ageless Brent Grimes fielding punts.
*In drills, Peyton Barber gets open over the middle and Jameis sidearms the ball to him for a big gain.
*Ryan Fitzpatrick squeezes a throw in tight coverage to Alan Cross.
*O.J. Howard catches a pass and the crowd roars. Already a fan favorite.
*Josh Huff has a Jameis pass right in the gut in end zone. Drop.
*J.J. Wilcox with a break up in the end zone. Having a good morning.
*Chris Godwin does a nice job of getting separation.
*Doug Martin in the right flat from Jameis and dodges Devante Bond. Later, Martin gets past the line of scrimmage and dodges tacklers by running to daylight. Joe sure didn't see that last year.
*Jameis underthrows wide open Evans on right sideline but Brent Grimes bails Jameis out by running into Evans.
*LOT of guys visbily struggling with the heat today, including Kevin Pamphile and Joe, who took a rare break to guzzle 32 ounces of water and a Sprite. Koetter said after practice that Godwin had his share of heat challenges.
*11-on-11 work: Back-to-back ferocious stuffs by Gerald McCoy in runs up the gut. First, it's Doug Martin, then it's Rodgers. Fans go wild yelling, "GMC, GMC, GMC."
*Peyton Barber was a nice hard cut to daylight off left guard. Powerful-looking back.
*Uh, oh. Rookie corner Maurice Fleming got turned around. Completion from Fitz to Bobo Wilson. Nice play.
*Humphries wide left, DJax in motion to the right, handoff left side to Rodgers for big gain.
*On a pass play, Donovan Smith totally owned Noah Spence. Nearly put him on the ground. To this day Smith is irked how Spence worked him over when the two played in the B1G.
*Great cheer from the Stick Carriers. "FIRE MARSHAL. PLEASE DON'T KICK US OUT."
*REVERSE! Bobo Wilson is too much for George Johnson in third-team duty in red zone work. TOUCHDOWN!
*Diving grab by Godwin from Ryan Griffin in red zone. TD.
*11-on-11: Appeared to be a direct snap to Huff. Interesting.
*Two runs left: Martin then Rodgers.
*Unseen sack. Will Gholston against 2nd-team line off the left edge.
*Red-zone shovel pass in tight quarters from Jameis to Rodgers. Well executed.
*After practice, Koetter, Jameis and McCoy spend time with the Stick Carriers.
More Saturday happenings on the JoeBucsFan.com home page.