Bucs-Jags Practice Notes, Nuggets & Happenings
August 16th, 2017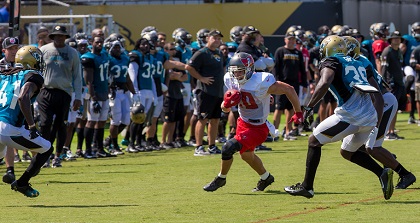 Yes, Joe patrolled the sidelines at Bucs-Jaguars practice yesterday furiously taking notes. The result? It's Joe's nearly world famous practice notes. Enjoy! Great dinner reading.
*The heat got cranked up early, and Joe's not talking about the Jacksonville swelter. (No shade for media. C'mon.) Special teams period, Bucs vs. Jags, opened practice and special teams assistant coach Carlos Polk freaked out on the first snap. Finish!!  A few plays later, special teams chief Nate Kaczor sarcastically expressed his disappointment in the effort. "We're covering them, fellas, not a walk-through."
*Adam Humphries drops a punt. Bucs recover.
*Good burst by Josh Huff on a kick return.
*Nick Folk with a good onside kick. It was recoverable but went out of bounds.
*Third-team Bucs cornerback Cody Riggs pounces on a Jags onside kick.
*What a pathetic crowd. Maybe 350 Jaguars fans. Maybe. A poorly attended Bucs open training camp practice has at least 1,500. A few loving shouts to Jameis. And Joe's heart was warmed hearing some fan yell "America's Quarterback. Yeah!"
*DROP! Bernard Reedy in receiver drills.
*Humphries flashes great hands and body control on a low throw.
*Whoa! Great extension by Mike Evans. He proved over and over and over during this practice that he's he's a cut above.
*Rare in NFL practice, a receiver gets a chance to repeat a drill because he messed up. Huff got that chance after getting his footwork coached up.
*CFL star receiver Derel Walker coached up to keep "accelerating" through his route.
*1-on-1 drills against the Jaguars kick off with Mike Evans making a sick, one-hand grab on a high throw in the left corner of the end zone. Fourth-year Jags corner Tyler Patmon is clowned.
*"Out of bounds, Jaboo," Jags players yell at Jameis. Lots of "Jaboo" trash getting slung at The Franchise. Pass was complete to Chris Godwin, though. Great grab.
*DROP! Walker.
*Complete to Adam Humphries and a flag is thrown for pass interference. Video here. Jameis walks over to shout multiple thank yous to officials.
*Undrafted rookie Bobo Wilson draws a flag in the end zone, appears to let up and then has what looks like a drop. Jameis, like a loving, pleading big brother, tells Wilson he has to finish plays. Ignore the flags.
*11-on-11 starts. Doug Martin is stuffed running right. Looks like there's going to be a lot of runs, and with no tackling to the ground, Joe is moving to a different field to watch the Bucs defense.
*Defensive linemen are going 1-on-1 vs. Jaguars O-linemen. Robert Ayers is handled. And former Buccaneers guard Patrick Omameh contains Gerald McCoy.
*Win for second year DE DaVonte Lambert. That draws love from D-line coach Jay Hayes.
*Two wins in two tries for Noah Spence. (Full video here.)
*Yes, DE George Johnson is still fighting for a job, and looking for his first sack since arriving on the Bucs roster to start the 2015 season. Hence the nickname "sackless." Johnson beats Jags rookie Avery Gennesy.
*Lotta holding by the Bucs' O-line. Donovan Smith and Demar Dotson are offenders.
*Fight!. Donovan Smith got under the skin of DE Yannick Ngakoue. Here's the video. Joe Hawley comes in to enforce.
*Back to 11-on-11: Donovan Smith is beaten by Ngakoue and Jameis is sacked. But Jameis actually went down, yet there's no hitting of QBs. No fight broke out, so it must have been just a harmless tangle of bodies.
*Gerald McCoy with a sack.
*Bucs CB Ryan Smith struggling mightily through the day. Full story here.
*If there was a wall around, Joe would have run into it head first. Ryan Fitzpatrick throws a simple dumpoff pass to Jacquizz Rodgers and it's picked off. Ugly. Joe supposes Fitzpatrick didn't see the linebacker.
*Holding Bucs. Joe's notes on that are too messy. Sorry. Yes, Joe uses the ancient craft of handwriting through practice.
*DROP! Josh Huff. However, on the play, nobody was covering O.J. Howard. Total coverage bust by Jacksonville. But Fitzpatrick didn't recognize it.
*Joe's spending most of the day with the Bucs defense. Hey, Rex Ryan was there on the sidelines and was kind enough to give Joe some time. Ryan is stunned by the extreme struggles of Ryan Smith, and he is lamenting his first year not coaching in 30-something years. He and Mike Smith, on the same Ravens staff years ago, are clearly very tight.
*7-on-7 red zone and the Bucs' defense is up and down. Touchdown Jags. Lavonte David falls. Receiver Shayne Wynn catches a pass in front of Chris Conte. Mike Smith yells, "Hey, are we going to cover anybody?"
*See Ryan Smith story linked above. Mike Smith barks at him, "C'mon, young Rook." (Extra interesting since Smith is a second-year player.)
*Pass breakup by cornerback Robert McClain.
*Win for the first-team defense and now Mike Smith is happy.
*And now it's time to FIGHT! (Full details on the back to back fights here.)
*Back to 11-on-11 and WR Allen Robinson beats Vernon Hargreaves very deep. Fun play to watch, just the wrong result.
*Mike Evans continues putting on a clinic. Chucky was there watching practice in the media area, and earlier Chucky shared his admiration of Evans with Joe.
*PICK! Another hot mess by Fitzpatrick, tipped pass thrown behind the target. Rough camp for Fitzpatrick continues.
*After practice, Jameis poses with one of his high school coaches.
*Major thanks to the Jaguars for opening the team dining area to media. Oh, what a spread. NFL players eat like kings, and so did Joe.