Winning With A "Psycho-Mentality"
August 23rd, 2017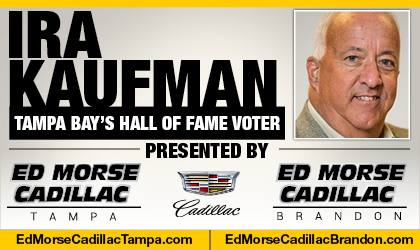 Ira Kaufman is the most beloved, revered and esteemed Buccaneers columnist in town. He has hung his hat at JoeBucsFan.com world headquarters since July 2016. Tampa Bay's only Pro Football Hall of Fame voter, Ira busts out columns here every Monday, Wednesday and Friday, and his award winning podcasts fire Tuesdays and Thursdays.
BY IRA KAUFMAN
Buc fans pining for the next Simeon Rice can stop chasing the impossible dream.
There's only one Simeon, and for awhile, one was more than enough. The second-best defensive end in franchise history behind Hall of Famer Lee Roy Selmon should get a little Canton love next month when voters pick the 25 semi-finalists for the Class of 2018.
Rice deserves to make the cut to 25 candidates for the first time — and that would be an important initial step. But while he's waiting for his judgment day, Rice is busy working on his second career as a filmmaker.
His next project is a documentary. You don't need three guesses to figure out the subject.
Yes, Simeon.
Before the big man hits the big screen, he intends to make his mark on the practice field. Rice worked with some of Tampa Bay's young defensive linemen at training camp, paying special attention to Noah Spence.
Rice still looks chiseled and he would be thrilled to see Spence become the club's first double-digit sacker since No. 97 was angling past left tackles and executing his patented sack-and-strip from the blind side.
When Rice signed with the Bucs as a free agent in 2001, he had already established himself as a force in Arizona. He posted 12.5 sacks as a rookie in 1996, but played in relative obscurity before joining Warren Sapp up front and making an elite defense a historic defense.
Besides showing Spence pass-rushing techniques, Rice's message was simple: dominate.
"I came in the league with a high sense of confidence," he said. "You know, Rookie of the Year, a little brash sometimes, rubbed people the wrong way sometimes, but it's all because I really believed in what I was putting on the field. Right out of the gate I believed in what I was capable of doing, becoming what I was capable of being and I truly wanted to be the best. I had a 'psycho-mentality' about being different."
That self-confidence never wavered and when the spotlight came, Rice sizzled. He registered seven sacks in seven career playoff games and he could easily have won MVP honors in the Super Bowl rout against the Raiders.
Rice was blessed with rare physical skills, but he worked hard to be great. He would often be seen running laps around the practice field after all the other Bucs had called it quits. He kept his body in good shape, although he'll be the first to admit he enjoys the pleasures of the flesh.
There were times when this free spirit faced costly repercussions.
Wine Tasting
In 2004, Rice was sent home from the Pro Bowl in Honolulu for disciplinary reasons. A year later, Rice missed a team meeting in San Francisco the night before a game against the 49ers.
Jon Gruden and Bruce Allen had seen enough, so they sent Rice back home on a commercial flight before dropping a 15-10 decision. The Bucs had been 5-1 entering the game, powered by Rice's five sacks and a fast start by rookie back Cadillac Williams.
A few days later, I approached Rice's locker, expecting to see an apologetic Buccaneer. Yeah, right.
Instead, Rice smiled broadly and talked about the exquisite chablis he downed on the flight back to Tampa.
How do you think that went over with Allen and Gruden?
Still, you couldn't stay mad at Rice for long because he backed up all that bravado on fall Sundays.
"There's no Hall of Fame without me in it," Rice says. "There's just not. I dominated when I played. There was nobody better at my position. Nobody."
I wouldn't go that far, but then again I never had to face the menacing sight of Simeon Rice bearing down on me on third-and-10.