55th Overall Pick Or LeSean McCoy?
August 25th, 2017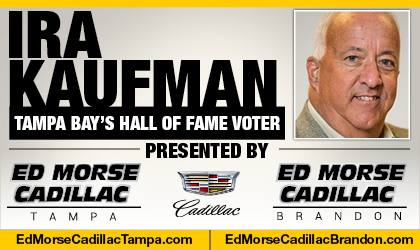 Ira Kaufman is the most beloved, revered and esteemed Buccaneers columnist in town. He has hung his hat at JoeBucsFan.com world headquarters since July 2016. Tampa Bay's only Pro Football Hall of Fame voter, Ira busts out columns here every Monday, Wednesday and Friday, and his award winning podcasts fire Tuesdays and Thursdays.
BY IRA KAUFMAN
It's not crazy.
The notion of the Tampa Bay Bucs trading for LeSean McCoy, either now or at some point this fall, shouldn't be dismissed out of hand.
Will it happen? Probably not.
Could it happen? Yes it can.
Some Buc fans appear convinced that McCoy is breaking down at the age of 29. I don't see it.
He just averaged a whopping 5.4 yards per carry for the Bills, ranking No. 1 among all NFL players with more than 722 rushing yards. He scored 14 touchdowns, tied for fourth in the league, and finished fifth in most yards from scrimmage.
That hardly sounds like a guy on his last legs.
McCoy has forged a reputation as a big-play back — and that has to be enticing for a Buc franchise that generated precious few big plays from the backfield in 2016.
While playing for the Eagles and Bills, McCoy has registered 16 runs of 40 yards or more and 27 receptions of 20 yards or more.
And he's durable, missing only 11 games during eight NFL seasons.
There's a lot to like with Shady, so why would the Bills let him go? In case you haven't noticed, Buffalo is rebuilding.
Yes, again.
Sensible Move
The Bills have gone 17 years without a playoff berth and they are about to make it 18. McCoy is their best player, but even he won't carry them to the postseason. Dealing him for a draft pick makes sense in the long term, and I don't care how many times new head coach Sean McDermott tries to shoot down swirling trade rumors.
Now we come to the Buccaneers, desperate to upgrade a ground game that was unacceptable for most of last season.
Maybe Jacquizz Rodgers soars with this opportunity to be the primary back in September. Maybe Charles Sims rebounds to his 2015 form. Perhaps Peyton Barber steps up his game. There's a chance Doug Martin can resurrect his career after letting his teammates, coaches and owners down last year.
That's a lot of maybes.
All I know is McCoy hasn't averaged less than 4.2 yards per carry since becoming a starter in 2010.
If he can be had for a second-round pick, and that's a big if, the Bucs should at least think about it.
Think Playoffs
This is not 2014, when the Bucs were hoarding draft choices and building a competitive roster. That ship has sailed, and this team is ready to do some damage.
Yes, you build through the draft. That's never going to change. But you also add a strategic piece when the time is right.
You think Dirk Koetter can't find a role for LeSean McCoy? You think the Glazers would dwell on the sanctity of a second-round draft choice if Jason Licht is inclined to pull the trigger?
If the Bucs live up to expectations, more than 50 prospects will be off the draft board when that second-round pick comes around. And if McCoy gives Tampa Bay three quality seasons, nobody is going to complain about the deal.
McCoy is not asking to be moved, but things can change in a hurry once the games start to count.
"There's no trade talks," McCoy says. "I talked to my coaches. I talked to Sean and (GM) Brandon Beane. I have a lot of respect for the guys. We had a great conversation. I'll leave it at that. Nowadays. with social media, everything is blown out of proportion. At the end of the day, the only thing I can do is control what I can control — and that's being one of the best players in the NFL like I've been doing since I've been in the NFL."
Even if McCoy starts the year in Buffalo, he will likely be the subject of trade rumors for much of the season. And if the Bucs can't find a decent running game to give Koetter's offense adequate balance, McCoy's value will only go up.
Yes, he's got tread on those tires. But do yourself a favor and watch a LeSean McCoy highlight tape from 2016.
Then ask yourself if he might be worth the 55th overall pick.
Buffalo management is already thinking about the 2018 draft. The Bucs are thinking about the playoffs.
The real McCoy could help make that happen.