Value In The Red Zone
August 21st, 2017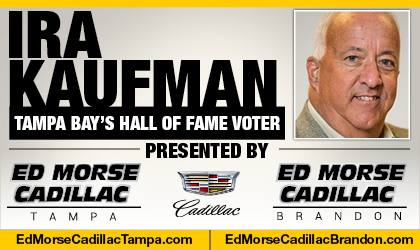 Ira Kaufman is the most beloved, revered and esteemed Buccaneers columnist in town. He has hung his hat at JoeBucsFan.com world headquarters since July 2016. Tampa Bay's only Pro Football Hall of Fame voter, Ira busts out columns here every Monday, Wednesday and Friday, and his award winning podcasts fire Tuesdays and Thursdays.
BY IRA KAUFMAN
There's another growing fan movement going on in Tampa besides the Stick Carriers.
A new wave of Buc supporters was in evidence Friday at the East Stadium Club when Darcie Glazer Kassewitz presided over the third edition of Women of RED.
More than 2,000 fans packed Raymond James Stadium for the event, with former WFLA-TV anchor Gayle Sierens serving as emcee. Ali Marpet, Clinton McDonald and rookie O.J. Howard were the special guests, answering questions and giving fans a peek behind the pewter helmet.
"This event is very important to me," said Glazer Kassewitz, co-president of the Glazer Family Foundation. "The women appreciate it because it's real and women deserve this. Women are about 50 percent of the fans in the NFL. They are half of our fans and everybody is having a good time."
Nancy Currey wouldn't have missed it for the world.
A season-ticket holder since the inaugural 1976 slate, Currey was attending her third RED event, designed to enhance the fan experience for women.
"I think it gets everyone in the community so excited," she said from her prime viewing spot on the side of the stage. "I love the talk with the players and Gayle does a great job as host. It's interesting to hear how the NFL schedule gets made and how the players and coaches prepare for a road game."
This event gets bigger every year and you can bet there will be another blowout before the 2018 season opener.
Former Buc Ian Beckles was on hand, along with Jason Licht and his wife. Dirk Koetter's wife, Kim, also attended, as well as Bryan Glazer and his wife.
"I knew it was going to be interesting," Howard said, "and when I got here, it didn't disappoint."
Female Frenzy
Through four decades of Buc football, Currey has seen the percentage of female fans go up significantly at home games.
"You definitely see more women in the crowd and events like this have helped," she said. "I think the women are their best fans. I'm thinking the Bucs will go 10-6 this year."
Sierens didn't need a lot of convincing to be part of the event.
"I just love football," said Sierens, almost 30 years removed from making history as the first woman to call play-by-play for an NFL game. "I love sports. I always have and I always will. Darcie is really trying to build up the fan base of women and let them know they have a place at Raymond James Stadium. She takes this very personally and she's on the right track."
Jameis Shift
There was a time not very long ago when Jameis Winston had a lot to prove to women like Gayle Sierens and Nancy Currey.
"Jameis has won me over," Currey said. "He's won over the entire community and I think he's won the team over. He has been so positive and he's a heck of a leader, going into schools and hospitals and giving so much of his time."
Sierens, a proud graduate of Florida State, looks at Winston and sees a charismatic star in the making.
"People are talking about the Bucs with great expectations — and why wouldn't they?" she said. "A lot will be on Jameis Winston's shoulders, and I think he'll be up for the challenge."
According to Sierens, Koetter may soon have his way in building a real home-field advantage.
"If this team starts winning, things will change quickly in that stadium," she said. "These are the kinds of loyalty-building events that we need. We don't have the long tradition of teams like the Bears and Giants … we're building our tradition. You see these people mingling out here? These aren't Chicago fans or Pittsburgh fans. These are Tampa Bay Buccaneer fans."