Derrick Brooks Talks "D" Turnaround
August 14th, 2017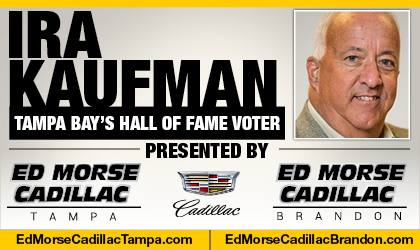 BY IRA KAUFMAN
Derrick Brooks wrestled with mixed feelings when Mike Smith went job hunting last January.
Brooks knows an outstanding coach when he sees one, and he admired Smith from afar until 2016, when he saw the Bucs make dramatic strides on defense under their new coordinator.
Smith was hoping an impressive second-half turnaround would catapult him back into the head coaching ranks, but it didn't happen, despite interviews with the Jaguars and the Chargers.
"I thought Mike Smith would be a head coach again in 2017," Brooks said, "and in my mind he deserved it. But for him to come back here as defensive coordinator is a critical point for this team to build on. In my mind, it's the key move of the offseason for this franchise."
Brooks knows the advantages of continuity in the coordinator ranks.
From 1996, his second year in the NFL, through to his final season in 2008, Brooks thrived in Monte Kiffin's system. That's 13 years of uninterrupted coordination between a Hall of Fame linebacker and the man who constructed a scheme based in large part around Brooks' unique skills.
That partnership almost dissolved following the Super Bowl season because the 49ers were interested in Kiffin after firing head coach Steve Mariucci. When San Francisco hired Dennis Erickson instead and Kiffin returned to One Buc Place in 2003, Brooks and Jon Gruden were elated.
"I wished the best for Coach Smith in January, but now the Bucs don't have to change coordinators or schemes — and they've got a majority of their defensive players back," Brooks said. "More importantly, Coach Smith has his staff back."
Proper Representation
Smith's first season with the Bucs had the look of a disaster until the bye week. The low point came on the evening of Nov. 3, when John Lynch entered the Ring of Honor.
With Lynch, Brooks and Warren Sapp looking on in disbelieving fashion, the Falcons jumped out to a 40-14 lead before finishing up a 43-28 beatdown.
The Falcons posted 31 first downs and generated 461 yards. Zero punts. Three Buc icons couldn't bear to look at the replay board.
"Yes, I questioned the effort after the Atlanta game," Brooks said. "I called a few of my close friends on the team and said guys, there's no way a Falcon should catch a pass on third-and-10 and gain 20 yards. We're better than that. And I love Devonta Freeman — he's a Seminole — but that's not the defense you want to represent this town."
Tampa Bay's defense was markedly better across the board after the bye week, but Brooks isn't a stat freak. He looks at points allowed and takeaways — and the 2016 Bucs excelled in those areas during a five-game winning streak that briefly vaulted the team into control of its playoff destiny.
Lasting Bonds
Brooks has long been a fan of Lavonte David, and that's understandable. The Tampa 2 may no longer be a staple on fall Sundays at Raymond James Stadium, but David has excelled at the weakside spot Brooks defined for 14 seasons.
And in only two years, fiery middle linebacker Kwon Alexander has emerged as the defensive face of the franchise.
Brooks admires his profile.
"Right now, this young man deserves to be in some conversations," Brooks said. "I especially like the duo of Kwon and Lavonte. I see that being a strong point of this defense, the way those two play together."
Tampa Bay's first-string defense looked stout at Cincinnati in the preseason opener. Alexander was flying around and closing quickly with five tackles, while David excelled as usual in coverage.
David received his contract extension two years ago and there's no doubt Alexander is also considered a core player. They could be operating side-by-side for quite a while, with Smith calling the defensive signals.
That's called continuity, a lasting bond between the talent and the man molding that talent. It all worked out so well for this franchise once upon a time, very long ago.
Ira Kaufman is the most beloved, revered and esteemed Buccaneers columnist in town. He has hung his hat at JoeBucsFan.com world headquarters since July 2016. Tampa Bay's only Pro Football Hall of Fame voter, Ira busts out columns here every Monday, Wednesday and Friday, and his award winning podcasts fire Tuesdays and Thursdays.