Day 7 Practice Notes & Nuggets
August 4th, 2017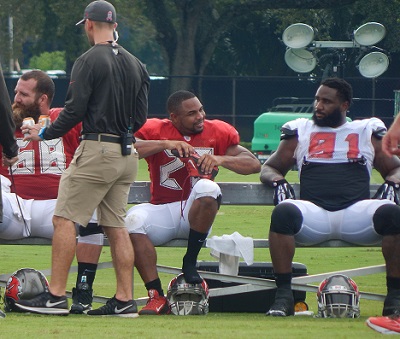 Your beloved Buccaneers were in pads for the third consecutive day and the full, traditional Tampa weather broil returned. It was a rare winning day for the offense, as you'll read more about on the JoeBucsFan.com home page. Here, it's a buffet of Joe's nuggets and observations. Enjoy.
*Guess Bucs are getting tired of GMC wrecking practices. On a run, he got doubled by J.R. Sweezy and Ali Marpet and was totally taken out.
*Offensive line getting real feisty this morning.
*America's Quarterback, Jameis Winston hits Mike Evans on a crossing pattern for big gain. Lotsa time to throw.
*Jameis throws high to the Stampeder (normal height for most WRs) and Brent Grimes nearly had a pick. Stampeder (Donteea Dye)  nearly got floored by Grimes.
*George Warhop must have been in the offensive linemen's O-lineman's ears. Offensive line continues to play with a noticeable edge.
*Pretty pass down right seam from Jameis to Adam Humphries (Rudy!).
*Mike Evans gets open underneath from Jameis.
*Bad drop by Antony Auclair, the undrafted free agent Canadian tight end.
*Veteran cornerback Robert McClain with very tight coverage on the Stampeder (Donteea Dye) who couldn't catch up with a pass down right sideline. Got squeezed. McClain continues to look like an excellent late free agent pickup. Hard to believe he was on the street for months.
*Huff down left sideline catches bomb from Jameis.
*The old Benn'd Around lives. This time with Josh Huff.
*Full story on Roberto Aguayo's big day on the home page.
*Now this is different: Doug Martin lined up wide right, Evans in right slot. Jameis goes to Alan Cross left.
*Earlier, O-line was winning the day. Last few minutes, d-line has taken over. Noah Spence could have sack on Jameis. Of course, there is no hitting of the QB.
*Huff lays out to catch bomb over the middle from Fitz and Huff is still on the ground. Three plays later, Huff finally on his feet. After practice, Koetter said Huff's issues was an elbow and test would be forthcoming.
*Floppy hat rest duty today for defensive tackle Chris Baker and Robert Ayers. Koetter says after practice that it's time to be smart with veterans and cites two previous days in pads. (Though Baker also sat out Wednesday's practice.)
*Freddie Martino has a pass go off his hands on right sideline from Ryan Fitzpatrick.
*Jameis hits O.J. Howard in the numbers on a crossing pattern for completion. More O.J. on a curl route complete from Jameis. And O.J. with catch for a big gain to the left. Yesterday, Koetter quipped that Howard looks like a first-round draft pick. He sure does.