Bucs Confronting, Considering CTE
August 11th, 2017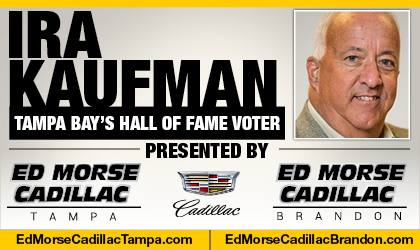 Ira Kaufman is the most beloved, revered and esteemed Buccaneers columnist in town. He has hung his hat at JoeBucsFan.com world headquarters since July 2016. Tampa Bay's only Pro Football Hall of Fame voter, Ira busts out columns here every Monday, Wednesday and Friday, and his award winning podcasts fire Tuesdays and Thursdays.
BY IRA KAUFMAN
Clinton McDonald will line up in the trenches tonight and prepare for a slugfest.
Even in the preseason, defensive linemen and their counterparts engage in a continual series of collisions that leaves both sides bruised and battered.
And even though Tampa Bay's veteran defensive tackle won't play the entire game against the Bengals, he's bound to wake up sore Saturday morning.
While McDonald practiced earlier this week at One Buc Place, former Buccaneers were casing the joint on Alumni Day. James Wilder, Mark Cotney, Dwight Smith and Mark Robinson were having a blast, checking out the current team.
They all have stories to tell about the price they paid for a career in the NFL. They all know about a different three-letter word — CTE — that entered their vocabulary in ominous fashion in recent years.
Robinson, a former safety who now serves as an analyst on USF radio broadcasts, says he's doing all right, 17 years after his last snap. He turns 55 next month, and Robinson's memory isn't as sharp these days. Still, he'll never forget the day he was awarded a game ball while playing for the Chiefs. While all of his teammates were congratulating him in the locker room, Robinson had no clue what all the commotion was about.
He couldn't remember what he had done in the game.
New Dialogue
Player safety is a driving force in the NFL, but those Buc alumni toiled in a different era. Nobody talked about suffering permanent brain damage when Cotney was leveling receivers over the middle with the crown of his helmet.
McDonald, 30, says today's players make a choice, conscious of the risks they address when those shoulder pads go on.
"Physically, I'm doing well," says McDonald, "but I know a lot of guys coming down with CTE and memory loss. You know what you're getting yourself into when you start playing pro football. You know the dangers, but at the same time, this is an opportunity that not everyone gets in America."

McDonald doesn't talk about the money and the fame that comes with the NFL logo. He dwells on the elevated status that allows players to change young lives.

"We're blessed to be able to do this," he says. "We go into this job with eyes wide open. The chance to go out there and have a platform to do great things in life is what you've got to take advantage of."
Former Bucs tight end Jimmie Giles, a member of the Ring of Honor at Raymond James Stadium, once told me he wouldn't do it all over again if he could turn back time.
As much as he enjoyed the competition and the camaraderie, Giles said the game takes too much out of you.
Nobody's Fool
Some NFL players are retiring early, well before their skills erode. It's a big problem for the league and a big problem for youth football, where numbers are dwindling.
McDonald understands the concerns, but he's not thinking too far down the road. Right now, he's thinking about being the best player he can be for the 2017 Bucs.
"Do I worry about what will happen to me 20 years from now?" he asks. "Instead, I would worry if I hadn't taken advantage of an opportunity from 20 years back. I know this game takes a toll, but at the same time, you are able to put yourself in a position at a young age where you can set yourself up for a long, healthy future."
McDonald is nobody's fool. He has played 83 NFL games, surviving on guts and guile.
Would he do it again? In a heartbeat, and so would Mark Robinson, who estimates he has suffered dozens of concussions from his days at Penn State to his final few years as a Buc.
The game is safer now, and that's a good thing, but it's not safe. Remember that tonight when Clinton McDonald gets down in a 3-point stance and stares at the man assigned to knock him into next week.