Gruden's Emotional & Dreamy Return — Today
August 2nd, 2017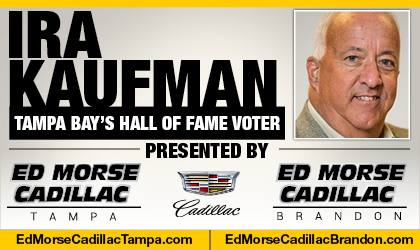 BY IRA KAUFMAN
Bob LaMonte won't be in the audience during Jon Gruden's Ring of Honor news conference this afternoon, but he sure was there when it counted.
Right at center stage.
There were a lot of contributors and factors in 2002, as Gruden was pried out of Oakland a year early. Al Davis received the price he wanted, Jim McVay was a valuable go-between and the Glazers weren't about to return from the West Coast without a head coach to replace Tony Dungy.
But don't forget about a powerful agent who was pulling strings from behind a silver and black curtain.
It was LaMonte who spoke loudly and clearly after the 2001 season ended for the Raiders with a bitter overtime playoff loss in the snow at New England.
"There is zero percent chance of Jon Gruden coaching the Raiders in 2003," LaMonte asserted two days after the infamous tuck rule was applied, negating an apparent Tom Brady fumble in the final minutes with the Patriots down by three points.
That bold statement got the attention of Davis, a maverick owner who didn't scare easily. Within a month, Gruden was standing at a podium in a downtown Tampa hotel, introduced as the new head coach of the Buccaneers.
When Gruden stands at a podium Wednesday, surrounded by family and former players, all of those memories and emotions will come rushing back.
"This whole thing is a fairy tale — you couldn't write a script like this," says LaMonte, who represents eight current NFL head coaches and an array of executives, including Jason Licht. "For Jon to come into Tampa, not pick one coach, not know one player, and annihilate the Raiders in the Super Bowl is unbelievable."
The Second Recruitment
The Glazers paid a steep price for Gruden's services, but the Glazer family would do it again in a heartbeat. So would the Stick Carriers.
The Bucs are one of only 10 franchises that have hoisted a Vince Lombardi Trophy in the past 15 seasons and the team is a mere 45-83 since Gruden's stunning departure.
LaMonte vows he'll be in the house when Gruden is formally inducted into the Ring of Honor Dec. 18, during a halftime ceremony at Raymond James Stadium.
Gruden is working the game as Monday Night Football's charismatic analyst. Since leaving the Bucs, Gruden has emerged as an ESPN icon, well paid and highly valued.
"Jon has nothing but respect for the Glazers," LaMonte says. "They gave him a tremendous opportunity. And this decision to put Jon in the Ring of Honor says a lot about the respect the Glazers have toward Jon. I think it will be an electric atmosphere that night."
Gruden was understandably shocked and hurt when he was fired after posting consecutive 9-7 seasons. He was replaced by an unholy trio — Raheem Morris, Greg Schiano and Lovie Smith — until Dirk Koetter successfully took the reins in 2016.
I've been told the Glazers reached out to Gruden after Schiano's disastrous two-year stint to gauge his interest in returning, but Gruden remained in the broadcast booth while the Bucs soldiered on with Josh McCown and Mike Glennon under center.
Dreams & Family
Gruden still lives in Tampa while his brother, Jay, also represented by LaMonte, returns as head coach of the Redskins for the fourth season.
"What a story Jon wrote in 2002," LaMonte says. "He and his parents are very close and this is a guy who was once shucking oysters at the original Hooters in Tampa. There was all that pressure to replace Tony Dungy and repay the cost of getting Jon out of Oakland."
At that introductory news conference, Gruden was asked about the daunting task at hand.
"There's always pressure," he said. "That's the great thing about being in the NFL, the pressure. You either feel pressure or you apply pressure.  Hopefully, with the group of players that we have assembled here, we're going to be able to apply a lot of pressure to the other team."
It's been a long, strange trip for Jon Gruden, who turns 54 in two weeks.
As an offensive assistant for Mike Holmgren in Green Bay, Gruden was once dispatched to pick up a young quarterback at the airport.
The Packers had just traded for Brett Favre.
Now, 25 years later, his name is going up on a stadium façade in his hometown.
"Well, you've got to dream," he said at that memorable initial news conference in Tampa. "You've got to have big dreams, man. Heck, yeah.  I remember when I was 15, 16 years old, walking down the street. I was the MVP of every Super Bowl ever played. I've had big dreams all along."
Ira Kaufman is the most beloved, revered and esteemed Buccaneers columnist in town. He has hung his hat at JoeBucsFan.com world headquarters since July 2016. Tampa Bay's only Pro Football Hall of Fame voter, Ira busts out columns here every Monday, Wednesday and Friday, and his award winning podcasts fire Tuesdays and Thursdays.