Chris Baker Behavior Doesn't Reflect Jameis' Leadership
August 16th, 2017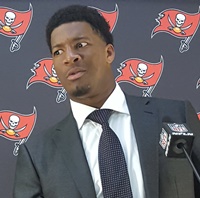 Once upon a time this summer, winning head coach Dirk Koetter said on the Ira Kaufman Podcast that a key to this season would be how free agent signings DeSean Jackson, Chris Baker and J.J. Wilcox would mesh in the locker room.
Fast-forward to last night's Hard Knocks episode, where Bucs fans learned that Baker has a very public and loud habit of trash-talking the Buccaneers kickers while standing just a couple of steps behind them while they attempt kicks. And Baker likes to celebrate their misses.
Is it a good thing? No. Joe thinks it's awfully weak.
And don't give Joe the line of baloney, 'Well, Baker is helping them because they need to get used to distractions.' Sorry, but standing six feet behind a kicker and heckling doesn't happen in real football. If that was Baker's motive, then he should be standing on the defensive side of the ball, or on the sidelines doing his negativity routine.
Believe it or not, Joe has played on many sports teams under many coaches, and Joe understands players must police themselves. That's the best way to deal with an issue like this — if it is an issue — 90 percent of the time. But Joe, obviously, never played on a team with a "face of the franchise" who has set a firm direction on team leadership.
On the Bucs, that tone-setter is America's Quarterback, Jameis Winston. And Joe can certainly say that Jameis would never behave the way Baker did. Jameis often rallies the Bucs with cries of "one heartbeat" and "family."
While every family tolerates a crazy uncle and a freak show cousin or two, Jameis, or Gerald McCoy, doesn't have to let Baker keep harassing kickers when they're trying to do their job. Let him wait 30 seconds until after the kick.