"As Good As He Wants To Be"
August 30th, 2017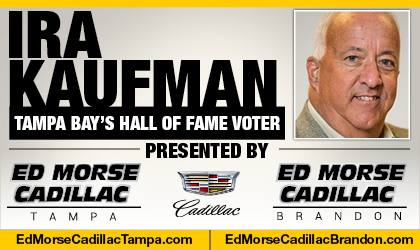 Ira Kaufman is the most beloved, revered and esteemed Buccaneers columnist in town. He has hung his hat at JoeBucsFan.com world headquarters since July 2016. Tampa Bay's only Pro Football Hall of Fame voter, Ira busts out columns here every Monday, Wednesday and Friday, and his award winning podcasts fire Tuesdays and Thursdays.
BY IRA KAUFMAN
Myles Garrett is going to make a lot of left tackles look bad this season. Donovan Smith ranks as Exhibit A.
The first overall pick in the 2017 draft was very impressive in Cleveland's preseason victory, pressuring Jameis Winston repeatedly off the right edge.
And while the Browns have much to look forward to enjoying Garrett's ascension, Buc fans are left wondering which Smith will show up in the season opener at Miami.
Everyone within the walls at One Buc Place seems to agree that Smith has a lot of talent. He's been the most durable Tampa Bay player the past two years, taking every snap since he was selected in the second round to protect Winston's blind side.
"Donovan has a lot of upside," says Clinton McDonald. "He has taken on some of the best rushers in this league and he has held his own."
When Dirk Koetter looks at Smith, he relishes what lies down the road.
"He comes to work every day and tries to get better," Koetter said. "Donovan is physically gifted, and when he is able to focus for the whole 64-play game, he's going to be one of the top left tackles in the league."
You wouldn't know it by Smith's performance Saturday night. On a humid evening, Garrett kept lining up outside Smith's left shoulder and applying additional heat.
On one play, Garrett fought past Smith, Adam Humphries and Jacquizz Rodgers to hound Winston.
"He's a big guy who can bend, and he's got speed, too," Smith said. "Garrett's going to be a good player."
Targeted
All head coaches have a way of getting their message across when it comes to public player evaluations. When Lovie Smith said a guy "looked "okay," that was code for he had a bad game.
Check out Koetter's report card on pass protection against the Browns.
"We had some individual breakdowns," he said. "I thought Evan Smith did a really nice job filling in at left guard and has had a real consistent preseason. Leonard Wester got his first start, that was great experience for him.

"Ali at center, you can definitely feel how he makes us more solid in the middle. But then, there's a learning curve. He had a couple of snaps that were a little bit high, a little tough to handle. And Donovan did not play as well as he's capable of. But it's a work in progress."
The key words you hear from Smith's coaches are "focus" and "consistency." Those are typical goals for any young player manning a high-stress position.
The good news? You don't hear Smith's name very often during a Bucs broadcast — and that's a beautiful thing from a Tampa Bay perspective.
Smith's Call
If Mike Evans isn't mentioned, that means he wasn't a factor. For offensive linemen, silence is golden.
"If you don't hear my name, it's all good," Smith says. "This was a good camp for me and I got a lot of good work in. My goal is to stay consistent, stacking games and being the best me I can be. I have high expectations for myself. People in the building have those same expectations for me, and I know that."
Winston is surrounded by all these weapons, but it won't matter much if the Bucs are beaten up in the trenches. Let's see how this group fares in the protection racket.
"As with any team, the offensive line is the heart and soul," Smith says. "There's five of us who have to work as one, and our room is the best I've seen since I've been here."
On a rainy night in a game that didn't count in the standings, a dynamic rookie showed Donovan Smith he isn't there yet. Smith has been solid for the most part, but the Bucs are convinced he can be elite.
"Donovan Smith," says McDonald, "can be as good as he wants to be."