Aguayo Gets A Leg Up
August 2nd, 2017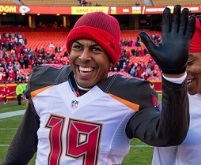 Well, look who stepped up from long range at practice today!
Roberto Aguayo looked like a very confident and powerful kicker Wednesday.
Before today, judging just on visible training camp performance, Joe would have said Aguayo and kicker favorite/challenger Nick Folk were performing at the same level. Very solid.
Today, Aguayo appeared to break the tie. From Joe's various vantage points, Aguayo made more kicks during a busy day of kicking, including a 56-yarder with plenty of extra leg in the kick. Folk stepped up after that long-range bomb and delivered a bad hook and miss from the same distance.
It's very early but it's getting interesting in the most heralded kicking battle in Bucs history.