5 Things To Watch In Tonight's Preseason Finale
August 31st, 2017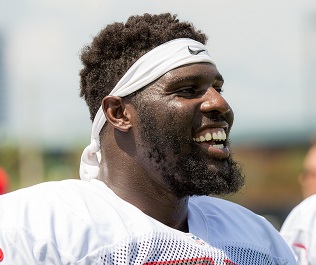 Don't think tonight's game matters? Don't tell that to Russell Shepard and Adam Humphries, guys like them found an NFL career after strong success in the meaningless Game 4 of the preseason. 
Here are five reasons to watch tonight — or head to the game and drink overpriced beer and scream like a maniac for your beloved Bucs.
Fumbles – Remember what happened to Kenny Bell last year? He got one kickoff to catch in the preseason. He fumbled it, and that was the end of his Tampa Bay career. Dirk Koetter will not tolerate bad ball security and, to date, the Bucs' skill position players have been great this preseason. Bubble guys like Bernard Reedy or Josh Huff or Jeremy McNichols or Alan Cross could see their livelihoods crushed with bad fumbles tonight.
Leonard Wester – Starting for Demar Dotson on Saturday, Wester looked pretty darn solid. Undrafted last year out of Division II Missouri Western, the 6-6, 305-pound Wester made the most of his chances last year and did enough to stick around. A good game tonight and Joe's not so sure the Bucs are willing to toss Wester aside, given Dotson's age and groin issue, plus questions surrounding Caleb Benenoch.
Ryan Smith – The Bucs' roller coaster second-year cornerback, who the Bucs thought was a safety last year, is always going to be in the spotlight. One minute he sucks, the next minute it's obvious what the Bucs see in him. Smith will get a load of reps tonight, as he has all preseason. Joe doesn't think Smith is playing for a job, but he might be playing to keep general manager Jason Licht from signing the first halfway decent cornerback to get released this weekend. And no, Joe Haden was not fit here. Stop that.
Justin Evans – Can we please give this guy a real shot at winning the full-time kick returner job? Dirk Koetter can say all day long that there's not a lot of value in the position. Let's see if that's the case on opening day in Miami. Dolphins returner Kenyan Drake averaged 30.5 yards a return last year, with nine of 13 returns more than 20 yards. In all, the Dolphins had 20 kick returns of 20+ yards last season. The Bucs had five.
Sackless George Johnson – The Bucs need to find a spark in their edge pass rush. Johnson has no regular-season sacks since joining the Bucs in 2015. But somebody at One Buc must respect this guy, and the six sacks he had with Detroit in 2014. If Johnson goes wild tonight against future furniture movers, P.E. teachers, grad students and Wall Street interns, might he actually stick around?