VIDEO: A Jameis Hand Injury, A McCoy Batdown & The Annoyance Of Underwear Football
July 31st, 2017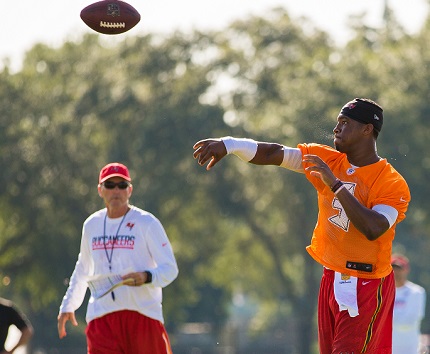 Telling and exclusive training camp video here.
Joe must confess. Joe videos a lot of training camp practice just to study plays and evaluate privately. Joe's even had a friend or two help shooting video for just this purpose.
There's so much to see. It's kind of like Joe at a Vegas buffet; there can never be enough plates.
In this Sunday underwear football video below, if you watch closely, you'll see Gerald McCoy bat down a pass from America's Quarterback, Jameis Winston. But it's underwear football, so the bat down isn't quite real. In real football, right guard J.R. Sweezy would be putting a hurtin' — or attempting to — on McCoy. Just look at the frustration Sweezy appears to show after the play.
On the pass, Noah Spence is coming off the right edge. Donovan Smith isn't allowed to really block him, so in comes Spence, who ducks inside Jameis so as not to hit him. And then Jameis follows through on the throw and his hand catches Spence's helmet with force.
You'll see Jameis' reaction. That's a great way to break a thumb, as so many QBs have done just that way through the years.
Is any of this real football? Not really. Joe gets that it's a necessary part of the game. But the video helps illustrate why Joe can't get all hot in the pants about how everything that goes in camp — positive or negative.