"Starting To Feel Myself"
July 5th, 2017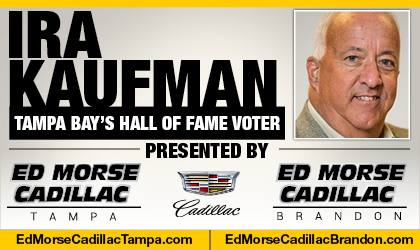 BY IRA KAUFMAN
Controlled aggression.
If you had to put a label on Mike Smith's wish list for Vernon Hargreaves this fall, controlled aggression sums it up nicely.
Hargreaves comes off a decent rookie season, but the Bucs are looking for more.
That's a good thing because Hargreaves figures to be a very busy man once again in 2017.
Why attack Brent Grimes, who led the NFL with 24 passes defended, when Hargreaves still has a lot to prove at the NFL level?
When Hargreaves was an elite prospect coming out of the University of Florida in 2016, his NFL draft profile said he had "top-notch ball skills." In three seasons with the Gators, Hargreaves picked off 10 passes. He displayed ample self-confidence and always seemed to have his feet on solid ground, which isn't easy when you're out on an island.
No wonder NFL draft pundits lauded Hargreaves as a "fiery competitor with a strong desire to own the pass."
Last year, Hargreaves was more prone to rent rather than own.
He finished fourth on Tampa Bay with 76 tackles, but the Bucs didn't choose him in the first round because he was a willing run defender.
"Our challenge to Vernon was to take the ball away more and he's done it almost every day," Dirk Koetter said during this year's OTA sessions. "That's encouraging because we know Brent can take it away on the other side. Vernon has done a very nice job of playing more aggressive and trying to take the ball away. He's answered the bell on that. Obviously he's got to carry it over to the season, but we're very pleased with what he's doing."
In many respects, Hargreaves turned in a successful first year. You didn't hear his name mentioned very often — and that's sweet music to a cornerback's ears.
"Starting To Feel Myself"
Hargreaves started all 16 games, taking virtually every defensive snap, and he registered one interception and one forced fumble.
It's not like he appeared overmatched or overwhelmed, but rookie defensive backs tend to struggle at times. Just ask Ronde Barber, who was admittedly dazed and confused in 1997.
The Bucs expect more from No. 28, and so does Hargreaves.
"Last year, I was just getting used to it, getting used to this game speed, better receivers, better players, better quarterbacks," he says. "Now, I'm little bit more comfortable. I'm starting to feel myself a little bit more now and hopefully I can just continue to get better. Of course, the more comfortable I get, the better I'll play, the faster I'll play, the less thinking I'll do."
Hanging around a consummate pro like Grimes should accelerate the development of Hargreaves, who just turned 22. Facing Mike Evans and DeSean Jackson every day in training camp will sharpen his skills before the Bucs head to Miami for the Sept. 10 opener.
"In OTAs, I've noticed that Vernon is talking more," Evans said. "At first, he was real quiet. He's talking more, he's showing out, he's making plays. He looks real good."
The Bucs look at Hargreaves as a play-maker, an active corner who is going to get his hands on a lot of footballs for the rest of the decade. A couple of tipped passes by Hargreaves in key situations could help the Bucs get off to a good start this fall.
Easy Start
It's not like Tampa Bay is facing a Murderer's Row of quarterbacks in the early going. Ryan Tannehill, Mike Glennon and Sam Bradford didn't make the list of the NFL's Top 100 players.
Not even close.
Mike Smith has big plans for Hargreaves in 2017. He is challenging his young corner to fulfill his vast potential, knowing there will be more growing pains along the way.
The Bucs figure the gain is worth the pain. If you're looking for a breakout player at One Buc Place, keep your eyes on this hungry Gator.
Ira Kaufman, the most beloved and esteemed Buccaneers columnist in town, has hung his hat at JoeBucsFan.com world headquarters since July 2016. Tampa Bay's only Pro Football Hall of Fame voter, Ira busts out his columns here every Monday, Wednesday and Friday, and his award winning podcasts fire Tuesdays and Thursdays.