The Bucs And Their Fans
July 19th, 2017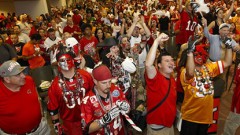 Things have been going on in the NFL recently that have Joe thinking out loud here.
Once upon a time, the Bucs used to have "FanFest." Folks gathered at the Stadium on Dale Mabry Highway to take part in all sorts of fun and happenings: walk the field, ask questions of the coach, get autographs, buy season tickets, and generally have a fun evening.
It was a cool event, albeit a hot event, as it usually took place in June. Then, the Bucs started to have a training camp practice at the stadium and shortly thereafter did away with FanFest claiming the night practice was essentially the FanFest, sans fans walking on the grass, asking the coach questions or mingling on the field.
It wasn't the same.
Then, beginning in 2015, the Bucs dumped the night practice, saying fans could come watch practice at One Buc Palace. But anyone who went to the night practice knows tens of thousands more fans showed up than at any practice held at One Buc Palace. Fans loved the night practice.
Joe guesses there were several reasons to do away with FanFest and subsequently the night practice.
There may have been scheduling issues, for one. And Joe guesses coaches hated it because there simply wasn't enough room for all 90 players to do their normal practice activities. Shoot, there's almost too little room at One Buc Palace when there are 90 players jockeying for room on two fields.
The reason Joe brings this up is because while the Bucs are in some ways cutting back, other teams are doing more. Just this week, the 49ers are having an open practice at their crib, Levi's Stadium. And the team will offer free food and drink at the practice.
(To be fair, the Bucs slashed prices on concessions at their FanFest and at the night practice at the Stadium on Dale Mabry Highway.)
Also, the Dixie Chicks just announced concessions prices at home games. And the new prices are virtual giveaways based on standards of concession prices throughout the nation at major league and college sporting events.
(Last week a Bucs fan went bananas on Joe via Twitter screaming about concession prices at Bucs games. Joe told the reader that the prices aren't much different — if at all — than at other NFL venues. In some cases, maybe they're a shade cheaper. The reader would have none of it and Joe scolded him for unfairly singling out Team Glazer when they were doing nothing different than roughly 120 other major league teams across North America.)
Now before Joe's readers get worked up, Team Glazer will soon have something for fans that to Joe's knowledge no other NFL team offers outside of the Cowboys. Beginning next summer, fans will get to enjoy practices in the air conditioning of the new indoor practice facility when the Bucs opt to practice there.
Even now, Bucs fans at training camp have it better than most. There are covered bleachers. Neither Jacksonville nor Houston, with similar climates as Tampa, offer covered seating for the majority of fans, much less air conditioning. Go watch the Texans or Jags, and you get to broil under the brutal summer sun just like the players and coaches.
That new indoor facility will certainly be a luxury next summer. And yes, Joe can understand why the team may have done away with the carnival-like night practice at the stadium.
But doing away with FanFast? Well, the decision seemed at the time, and still does, a bit onerous if not haughty.