"The Badass Licht Pined For"
July 28th, 2017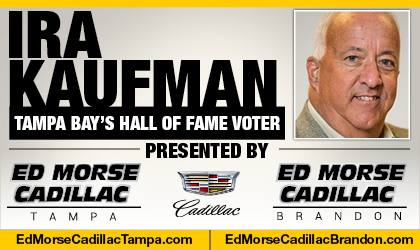 Ira Kaufman is the most beloved, revered and esteemed Buccaneers columnist in town. He has hung his hat at JoeBucsFan.com world headquarters for more than a year. Tampa Bay's only Pro Football Hall of Fame voter, Ira busts out his columns here every Monday, Wednesday and Friday, and his award winning podcasts fire Tuesdays and Thursdays.
BY IRA KAUFMAN
Before he's through tinkering at One Buc Place, Jason Licht may be responsible for drafting more than 100 players. I've got a feeling he has already signed off on the most rewarding pick he'll ever make as an NFL executive.
Kwon Alexander wasn't even supposed to start as a rookie in 2015. The undersized linebacker out of LSU was supposed to contribute on special teams and perhaps push Danny Lansanah a bit on the strong side.
After all, the Bucs had just signed Bruce Carter away from Dallas to man the middle linebacker opening created by Mason Foster's departure.
Two years and 28 starts later, Alexander walked into training camp Thursday as the undisputed face of Mike Smith's defense. He strutted in from the parking lot with upraised arms and a smile that assures Buc fans he is ready to rumble.
Licht traded up in the fourth round to grab Alexander with the 124th overall choice. In an NFL scouting report heading into the 2015 draft, Alexander was compared as a prospect to Dekoda Watson, a former Buc linebacker who has started seven games in seven NFL seasons.
Are you kidding me?
"On Your Shoes"
Watson has bounced around with six organizations because he's a darned good special teams player. Alexander is simply special, period, a Pro Bowl alternate who concedes nothing to Jameis Winston when it comes to passion for the game.
Yes, No. 58 even loves training camp.
"Everything about it," he said after reporting for training camp yesterday. "That we get to start back, you know. Then it's closer to when we get to play games and everything too, so we don't have that long. So you've got to be ready and on your shoes. I am just ready. I'm just anxious to get back out there and hit somebody."
Can't you envision Dirk Koetter smiling when he heard that line?
Tampa Bay's defense improved markedly after the bye week last season and Alexander led the league with 108 solo tackles. He added three sacks and a swagger that can't be found in a book filled with NFL analytics.
If you've seen Alexander level Julio Jones 25 yards down the field or dash into Carolina's backfield before Cam Newton can complete a handoff, you know Alexander is the 22-year-old straw that stirs the defensive drink around here.
"I think you have to have leaders in each room," says Mike Smith. "Gerald McCoy does a great job. Because the players are going to get tired of hearing the same voice, we've got to have guys able to step up and step up at the appropriate time. Kwon's done a very good job. He's a very emotional player, he plays with a lot of passion and he runs extremely well. I think that's probably his best trait — his ability to run."
Alexander certainly has an impressive motor, but with all due respect to Smith, most NFL linebackers can run well. For me, it's Alexander's intensity and energy that sets him apart.
And unlike many pro athletes, Alexander speaks his mind. Don't ask him a question if you want a stock answer. He regards cliches with the same disdain he treats ball carriers.
Stage Stealer
So here come those Hard Knocks cameras, seeking provocative sound bites. Mike Evans was just asked to pick a Buc player who will emerge as a focal point for the HBO sports series.
"Jameis," he said. "My sleeper pick? Kwon Alexander. He's fun to practice against and with. He's going to bring a lot of energy, fun, and a lot of competiveness."
In a critical late-season game at Dallas, Alexander registered 21 tackles and forced a fourth-quarter fumble. The Bucs came up short but a national TV audience witnessed a star in the making.
Although he's on the fast track, Alexander has stumbled at times.
He still regrets the four-game suspension levied by the league at the end of his rookie season for violating the NFL's policy on performance-enhancing substances.
The surging Bucs had just rallied past Atlanta to even their record at 6-6 when Alexander took his punishment. It was no mere coincidence Tampa Bay then went 0-4 down the stretch.
He had let his teammates down, and he knew it.
While Winston reigns as the most important draft pick Licht has made, Alexander looms as the most satisfying. He was the 14th linebacker chosen in 2015, behind luminaries like Lorenzo Mauldin, P.J. Dawson, Eli Harold and Stephone Anthony.
Alexander was also the first defensive player drafted by Licht — following an opening run of nine players on offense.
Now there's another rookie linebacker from LSU making himself familiar with One Buc Place.
Alexander has made it a point to show Kendell Beckwith around town. Don't be shocked if they are starting side-by-side before long.
"He's like a big brother to me," Beckwith says. "He always has been."
Starting today, Alexander is big brother no longer. Starting today, he's the badass Licht pined for on that fateful draft day.