Mike Evans Ramps Up The Pressure
July 27th, 2017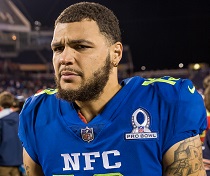 It's Year 4 for Tampa Bay's stud Pro Bowl receiver, and Mike Evans is echoing his head coach, the guy who has no problem heaping a pile of pressure on himself.
Dirk Koetter has said previously that the Bucs' talent level is the best since he's been here.
Coming off a 9-7 season, that's another way of saying, "playoffs or bust in 2017."
Today at One Buc Palace, Evans reported to training camp and chatted with media — Joe, others and the Hard Knocks cameras.
Asked about the roster, Evans very casually and calmly said, "This is best talent we've had since I've been here. By far."
Joe is so pumped for the expectations fueling a fire from Lakeland to Largo for this Buccaneers season.
"We're all excited. I'm excited," Evans added, though still talking in a mellow tone.
How good are these Bucs?