Jason Licht On Doug Martin: "There's No Guarantees That He's Going To Be Here"
July 30th, 2017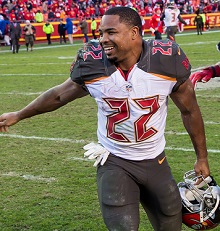 Joe has been flamed and cussed out for saying the following since January: Doug Martin returning to the Bucs in October is hardly a guarantee.
It's nothing personal, it's just the cold facts.
And now Bucs AC/DC-loving general manager Jason Licht is on record saying that even if Martin returns (not a lock) after serving the balance of his suspension — three more regular-season games — that the Bucs are not going to keep his seat warm.
Licht told Dan Graziano of BSPN that Martin might not have any job at all in Tampa.
"Look, he has done everything we've asked him to do, and he looks reminiscent of 2015 when he was playing for his contract," Licht said. "He looks the same out there, mentally and physically. So he might be one of those guys that needs a carrot. And he's got a pretty big carrot in front of him right now, because there's no guarantees that he's going to be here. And he knows that. We've talked to him, and he's good with it. He goes, 'I understand.'"
Again, this is nothing personal against Martin in any way, though Bucs fans want to make Joe out to be a hater. That's just ca-ca in the highest order.
Look, Martin sought medical help to battle some sort of substance issue. Joe gives Martin a standing-O for that. One's health is much bigger than football.
Like anyone battling such demons, there is always a chance at a relapse. Besides, Martin being out three games to start the season means he will be missing a lot of practice. You can't tell Joe that Martin won't be a little bit rusty.
Not just that, but what if, say, Jeremy McNichols wins the starting job to open the season and he is gashing defenses? You think winning Bucs coach Dirk Koetter will bench him for a cold Martin.
And how many backup running backs do you know that are being paid in excess of $5 million?
Until today's report, Licht was rather vague when talking about Martin, saying the Bucs had until Week 4 to make a decision on Martin's future because he is suspended for the first three games of the 2017 season. There was also talk that the team just wanted Martin healthy and they thought he looked good in the spring.
Today, Licht's guarded tone — and tune — changed. And still there is no endorsement of Martin, not even a hint.
Dirk Koetter last spoke in depth about Martin with the Ira Kaufman Podcast. Koetter said Martin's situation and the possibilities for him on the 2017 Bucs are just a big maybe.
"That is all hypothetical, all right? Everything — how do I know if everything is going to go that way? Hopefully, at the end of the three games Doug is still in good health. But we have no idea what is going to happen to our other tailbacks by then. So, I don't spend too much time worrying about that kind of stuff," Koetter said.

"How can you have too many good players? I sort of look at it as we will cross that bridge when we get to it, because, why worry about it until you have to? We have a lot of other stuff that we need to be concerned with. You know, if everything was 100 percent perfect — I don't have experience with a guy taking three weeks off and then coming back. So, you will have practices in there and we would have to see how we are doing as an offense, how we are doing with our running game. We will just have to see."
Licht's words don't surprise Joe, of course. Interesting times for Bucs fans and the running backs room, especially with the pads coming on tomorrow.
As Koetter has said repeatedly, running backs really can't be evaluated until there is blocking and tackling.