The First Aguayo-Folk Visible Camp Battle
July 30th, 2017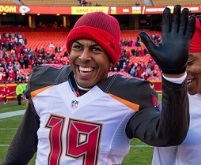 The rains were pouring down and up stepped Roberto Aguayo and Nick Folk during today's kicking period.
It was the first public field goal session for each player in training camp.
Man, it was coming down buckets. Joe didn't have the best view, but Joe did see Aguayo look perfect except for his fifth kick out of five. That was a long one (50?) and it came off his foot ugly and to the right. It appeared to miss just short and wide.
After practice, Dirk Koetter said both kickers were 4-of-5 from the head coach's view. But Koetter said he'd have to go to the film to confirm.
At JoeBucsFan.com world headquarters, we'll call today's action a tie, which gives the edge to Folk. All Folk should need to be the opening-day kicker is to be as good or better than Aguayo.