Jameis Must Alter His Approach
July 10th, 2017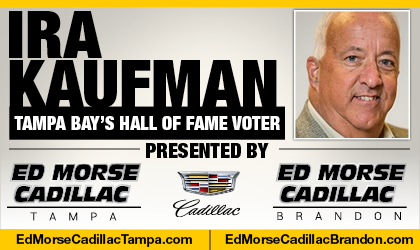 BY IRA KAUFMAN
It's not how you start, it's how you finish.
You've heard that trite saying uttered by every football coach from Pop Warner to the National Football League. And it's not always true.
Sometimes, bad starts prove insurmountable. In Jameis Winston's case, slow starts have been a troubling three-year issue, dating back to his sophomore season at Florida State.
Even though the 2014 Seminoles reached the Rose Bowl before losing to Oregon, Florida State needed a flurry of second-half comebacks along the way. Winston would dig a hole with early mistakes, then engineer thrilling rallies that showcased his competitive spirit.
But this isn't Tallahassee and the Bucs don't enjoy an overwhelming talent advantage over their opponents. This is the NFL, where it would be nice if Winston and his teammates executed with more poise, precision and purpose from the start.
Only five of Winston's 50 career touchdown passes have come in the opening quarter. That's a stunning stat and it explains in a big way why the Bucs almost always struggle to impose their will until well after the opening kickoff.
Winston's nine first-quarter interceptions drag his passer rating down to 71.3 for the game's first 15 minutes. That's Blaine Gabbert territory. That's Case Keenum territory.
Look Around
In sharp contrast, Winston's rival quarterbacks in the division have a habit of starting fast.
Drew Brees boasts a 98.5 career rating in the first quarter, with 96 TD passes and 38 picks. Matt Ryan's opening-quarter rating is a robust 102.5, with 58 TD throws and 19 interceptions. Cam Newton has an 88.9 rating in the first quarter, with 30 TD passes and 13 picks.
"I'm supposed to be the leader of this team," Winston says, "so I've got to start fast. It starts with me."
While Winston usually takes time to find his rhythm, the Bucs struggle to score early. During the past two years, with Winston under center and Dirk Koetter calling the plays, Tampa Bay has scored only 124 points in the opening quarter.
Do the math. That comes out to less than four points per first quarter.
In opening quarters last year, Winston threw one touchdown pass against Atlanta at home and found Mike Evans twice in the end zone against the Seahawks.
That's it.
Too Much Love
Part of the problem could be Winston's unbridled passion for the game.
Every week, he can't wait for Sunday to arrive so he can get out on center stage with his teammates and compete. All of that enthusiasm is commendable, but Winston may be too emotional at kickoff.
He looks like a quarterback who needs to settle in, maybe take a few hits, before getting locked into his reads and progressions.
Now it's up to Koetter and Mike Bajakian to work with Winston on his pre-game routine and keep him grounded. The Bucs need better starts — and Winston holds the key.
Perhaps it's time for Koetter to consider taking a Bill Walsh approach. The Hall of Fame coach of the 49ers used to script the first 15 snaps for Joe Montana.
I'd say that tactic worked out pretty well for all concerned.
Not only did the script give Montana a tangible structure when the game began, it also provided Walsh with an opportunity to let plays unfold in a logical manner.
Through two seasons, Winston has done little to put a damper on his bright future. He has been heralded as the first franchise quarterback in Buc history, but he is not a finished product.
He needs to be a more accomplished deep thrower and at times, he needs to temper his aggression. These are hardly daunting obstacles, and Winston is still a very young man.
But these lethargic starts remain both puzzling and frustrating. Wouldn't it be nice if Winston came out with guns blazing right after you heard about the rocket's red glare?
We're two months from the season opener. The Dolphins will be ready in front of a home crowd. Winston needs to be ready, too, right from the start.
Ira Kaufman, the most beloved and esteemed Buccaneers columnist in town, has hung his hat at JoeBucsFan.com world headquarters since July 2016. Tampa Bay's only Pro Football Hall of Fame voter, Ira busts out his columns here every Monday, Wednesday and Friday, and his award winning podcasts fire Tuesdays and Thursdays.