Jacquizz Will Set The Bar
July 30th, 2017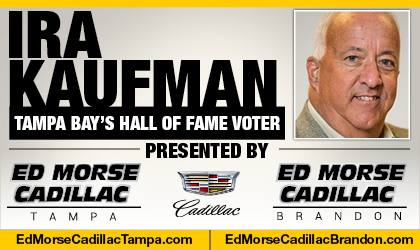 Ira Kaufman is the most beloved, revered and esteemed Buccaneers columnist in town. He has hung his hat at JoeBucsFan.com world headquarters since July 2016. Tampa Bay's only Pro Football Hall of Fame voter, Ira busts out columns here every Monday, Wednesday and Friday, and his award winning podcasts fire Tuesdays and Thursdays.
BY IRA KAUFMAN
He's easy to overlook — and that would be a big mistake.
It's fashionable to underestimate Jacquizz Rodgers and his potential role on the 2017 Buccaneers. But if you get past his 5-foot-6 frame, Rodgers will have an opportunity to play a huge role in shaping Dirk Koetter's ground game this fall.
And as Koetter likes to remind his campers, it's all about opportunity.
Doug Martin may have a chip on his shoulder, but it is Rodgers who will have the rock in his hands during the opening three weeks of the season while Martin serves out his NFL suspension.
And if the Bucs boast offensive balance and a winning record when the Giants arrive in town for an Oct. 1 matchup, why would Koetter mess with a good thing?
He won't … not in a New York minute.
"Jacquizz is power-packed," says Bucs defensive coordinator Mike Smith, who coached Rodgers during Smith's final four seasons in Atlanta. "He's a small package, but he plays big. When you're trying to tackle a guy like that, it's all knees and shoulder pads."
And heart.
Down A "Dog"
Rodgers has waited a long time for an opportunity to be a feature back, despite a record-setting prep career in Richmond, Texas, and a glittering three-year stint at Oregon State.
Last year, he signed with the Bucs two days into the season and finished as the leading rusher for a franchise that struggled to open holes and keep defenses honest.
While the Bucs gained only 3.6 yards per carry, Rodgers averaged 4.3 yards and produced Tampa Bay's longest run of the season, a 45-yard dash at San Francisco.
"We've got a great group of guys in the backfield and everybody brings something different to the table," says Rodgers, who turned in a pair of 100-yard games. "We feed off the tempo of our lead dog, Doug."
That dog may not hunt, however.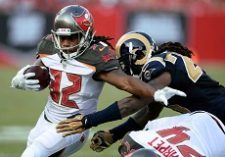 It doesn't hurt Rodgers that he knows Koetter's playbook inside and out. There's a trust factor between Koetter and a former 2012 fifth-round draft pick who may have personally salvaged the Buc season when he powered a 1-3 club to a crucial Monday night win at Carolina.
Tampa Bay's running game was in tatters when the Bucs ventured into Charlotte and turned ground transportation over to Rodgers. He responded with 101 yards on 30 carries, providing stability and possession time.
Jameis Winston, who averaged 44 pass attempts during the first month, threw only 30 times at Carolina and Rodgers followed up with those 154 yards against the 49ers as the Bucs evened their record at 3-3.
"Jacquizz did a great job for us last year," Smith says. "He's a play-maker. He may not have your traditional height and speed, but put the ball in his hands and he makes plays."
Buc fans want to know Martin's fate, but the stark truth is that nobody knows for sure. Koetter and Jason Licht don't have to make a decision for another two months — and they are in no hurry to render a final verdict.
There's no real debate at this point about who will be Tampa Bay's featured back in the season opener at Miami.
Three Weeks For A TKO
Martin is unavailable, Charles Sims couldn't find any running room last fall and rookie Jeremy McNichols has never taken an NFL snap. Peyton Barber had impressive rookie moments, especially against the woeful 49ers, but Rodgers will have first crack at fixing a running game that would have averaged a ridiculous 3.3 yards without No. 32.
"For us, it's about finding a way to win games when it's close," Rodgers says. "There's nothing wrong with the high expectations around here, but we know we have to put the work in because nothing is given to you."
In Atlanta, Rodgers took handoffs from Matt Ryan, the league's reigning MVP. Now, he is looking forward to another year with Jameis Winston.
"Jameis is one of the best leaders I've ever been around," he says, "a person who puts his teammates before himself. It's rare that you see that in this league, and he means it."
The first three weeks of the season will tell Doug Martin all he needs to know about his future in this organization.
Here's a sure bet. There's at least one guy at One Buc Place not overlooking Jacquizz Rodgers.