Dirk Koetter Addresses Fans & Media Perceptions On Depth
July 23rd, 2017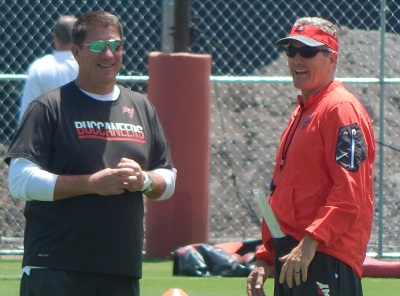 You want to get deeper into the mind of winning Buccaneers head coach Dirk Koetter?
Here you go.
For those just emerging from the spring-summer, no-football blues, Coach Koetter sat down for an in-depth chat with the Ira Kaufman Podcast about a month ago. (You can catch up on various segments in the archives or at iTunes. The final cut rolls out this week.)
Asked a question about cornerback depth, Koetter rolled into a very interesting take on fan and media perception of depth in general. Here's the transcription:
"Teams in the NFL, you can only have so many name players where everybody knows their name. Sometimes, if the fans haven't heard a name before, or even if the media hasn't heard a name before, they just assume the guy's no good, "Koetter said.

"If a guy's out there on a 90-man roster in the NFL, he's pretty good. There's a lot of guys that aren't. It's going to get cut down even more. But what I would just say, you know, I read you guys' website, if a corner's getting torched, he gets torched [on JoeBucsFan.com] too. So now you're talking about guys you just don't know their name. Well, you want us to bring back the guys you're already mad at? I always laugh about that because your depth is your depth. You can't just trade these guys out all day.

"Because it's not like there's 200 great players sitting out there on the street; someone would sign them. Obviously, there's salary cap and there's draft and free agency, but you've got to develop your players. We mentioned Javien Elliott. So Javien Elliott was a tryout player last year. He was like Adam Humphries was. And [Elliott] improved every week. He ended up starting a couple of games for us and did fine. And he's continuing to get better out there.

"Ryan Smith, a guy that played a couple of different position. We wanted to try him at safety; it didn't work out too well. We're putting him back at corner, he's doing better. A lot of times you don't really know how your depth is going to work out until they get in the fire and have to do it. [Running back] Peyton Barber is another one. He came out of nowhere. Slowly but sure, when we needed him, he did ok.

"You're never going to have 53 known quantities and your just going to say, 'Ok. No 46 on your roster goes out there, I know exactly what they're going to do.' That's never going to happen."
Fantastic take by Koetter (and not because he says he reads JoeBucsFan.com).
Koetter is probably 94 percent on the money here.
Take cornerback, for example. If/when Ryan Smith gets roasted a couple of times this season, then should Bucs fans scream for unemployed Alterraun Verner and Mike "Toast" Jenkins to be re-signed? If the Bucs' depth at tight end is tested this year because of injuries and Alan Cross drops some passes, should a Brandon Myers bandwagon emerge? There are many other examples.
Teams do have to roll with their depth once the 53-man roster is set. There has to be trust in the evaluation process that got those guys on the team, and teams can't get all trigger-happy looking for quick fixes on the street.
However, it is the great personnel departments that seem to consistently find those effective guys on the street, or severely limit their depth problems out of the gate.