Looking At A Gruden Comeback
July 21st, 2017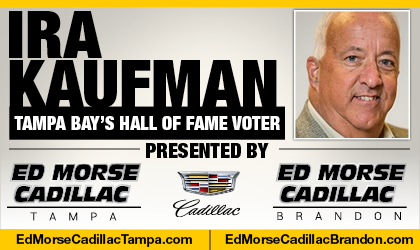 Ira Kaufman is the most beloved, revered and esteemed Buccaneers columnist in town. He has hung his hat at JoeBucsFan.com world headquarters for a full year. Tampa Bay's only Pro Football Hall of Fame voter, Ira busts out his columns here every Monday, Wednesday and Friday, and his award winning podcasts fire Tuesdays and Thursdays.
BY IRA KAUFMAN
Next January, when a half-dozen NFL clubs are looking for a new head coach, Jon Gruden's name will be mentioned prominently.
Happens every year.
The man who guided the 2002 Bucs to football nirvana has built a formidable second career as ESPN's analyst on Monday Night Football. And although he hasn't designed a play or flipped a visor in anger since 2008, Gruden remains high on wish lists around the league.
But as Gruden's agent tells him whenever he's pondering the latest offer, "Jon, you might have to take a pay cut."
Yes, a pay cut.
Gruden is likely ESPN's highest-paid employee and his additional revenue streams continue to flow like Niagara Falls.
Yes, he misses the juice of NFL competition. He can't deny that with a straight face.
But the odds of Gruden returning to the sidelines diminishes with each passing year. He turns 54 next month and he is surrounded by friends and family in Tampa.
Would Gruden really want to pull up stakes and move to Cincinnati or Detroit?
He hangs out most days in his darkened Tampa office, where the only sliver of light comes from his trusty laptop.
His NFL film library can match the archives of most NFL clubs and Gruden entertains a steady stream of visitors — coaches, executives, current and past players, NFL prospects and ESPN personnel.
Amid all this activity, Gruden keeps a close eye on the organization that dismissed him after a second successive 9-7 season.
On the day Dirk Koetter was named to replace Lovie Smith, Gruden told me that Tampa Bay's new head coach was "one of the NFL's best-kept secrets."

Koetter just led the Bucs to their first winning season since 2010 and Gruden says the secret is out.

"Dirk does a great job with that offense," Gruden said on the brink of training camp. "He's one of the best play-callers in the league and I think the Bucs are going to have a good season."
Gruden worked with Jameis Winston during his 2015 QB camp and came away impressed. Now, he's even more impressed."
"Love everything about Winston," he said. "This kid's special."
Gruden should know about special kids. His oldest son, Deuce, just became a world champion power lifter. Deuce also serves as an assistant strength and conditioning coach for the Redskins, working on Jay Gruden's staff.
Gruden's middle son, Michael, is breaking into the music business and Jayson finishing high school.
When Jayson graduates, that could be the trigger for Jon Gruden to make a stunning return to the NFL.
We already know he is returning to Raymond James Stadium for the Dec. 18 matchup against the NFC champion Falcons. ESPN cameras will be on site that evening as Gruden enters the Ring of Honor during a halftime ceremony.
"I'm humbled and I appreciate this honor very much," he says.
When Gruden travels each week during the season, he enjoys rock-star status at airports, hotels and stadiums. He has a lot of friends in the coaching community, men who keep asking him the same question:
"When are you coming back?"
I'm not sure Chucky knows the answer himself. What I do know is any potential NFL head coaching job would have to check off the boxes for salary, location, ownership and talent, particularly the man under center.
And don't forget about that pay cut, Jon.