Warren Sapp, OTAs & The Bucs' Absences
June 4th, 2017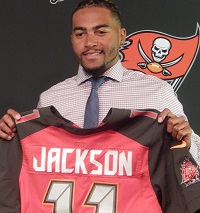 A hot topic on SiriusXM NFL Radio last week was players who skip spring practices.
Also known as OTAs, the voluntary on-field sessions with coaches aren't taken seriously by everyone. Some players — some Buccaneers — take days off.
Would America's Quarterback, Jameis Winston, skip a practice because something came up that wasn't the death — or imminent death — of a family member? Of course not.
Anyone think Ali Marpet would take a personal day and just study center film at home while he gets a few massages and wolfs down tacos? It's not going to happen.
But DeSean Jackson, Brent Grimes and others have skipped their share of practices this year. They're playing by the rules and they have the street cred to pull it off. Their team needs them more than they need their teams.
While hosting on NFL Radio, former Raiders, Jaguars and Bills linebacker Kirk Morrison (2005-2012) shared a story about OTA attendance, one that has ties to the Buccaneers.
Back in 2006, Art Shell had just been hired to be Oakland head coach for the second time. A voluntary spring minicamp was scheduled — NFL labor rules were different then — and Morrison, then a third-year Raiders player, showed up and found a surprise. There was Warren Sapp, entering his 12th season and third with Oakland.
Sapp, then 33 years old, was there early, and he was working intensely.
Morris simply had to ask Sapp what he was doing there. Why did he show up when he had nothing to prove and it was very voluntary?
Sapp told Morris that showing up for practice, whenever it is, is all about respecting the head coach. It was simple for Sapp: Coach calls a practice, then that's where you go. You don't disrespect your coach by staying home.
Sapp went on to have 10 sacks that season for a 2-14 football team.
So today, Joe is wondering about the meaning of Sapp's actions and words. Is OTA attendance no big deal? Is Jameis secretly furious that Jackson is so busy that he can't show up — when the entire team has six weeks of vacation beginning in 12 days?
At practice Thursday, Grimes looked extraordinarily fit and very sharp. Unlike Jackson, who wasn't there, Grimes isn't trying to adjust to new teammates and coaches.
What Joe does know is Jackson, on May 23, ironically stressed the importance of OTAs. He went out of his way to say the current final phase, which allows defensive backs to cover receivers, is key time — and then he bailed on lots of it.
Joe sure hopes the Jameis-Jackson chemistry doesn't struggle early in the season.