Today's Full Kicking Report: Aguayo Vs. Folk
June 8th, 2017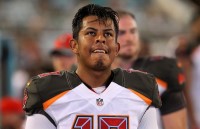 The Buccaneers' battling kickers were attempting field goals in front of media today at One Buc Palace.
Joe was behind the skinny-goal-post targets taking notes.
(At least week's open session for media, the kickers, rather mysteriously, did not kick.)
First, it was Aguayo lined up from 40 yards (the apparent distance) — 11-on-11 but no rush, of course, given that it's no-pads spring practice.
It's good!
Second kick for Aguayo is missed right. Booo!
The third is good! The fourth is good! The fifth and final attempt from what appears to be 45 yards comes up short. So it wouldn't have been good on real goal posts.
That's 3-for-5 in today's contest for Aguayo.
Then up steps Nick Folk for the same routine. He is perfect from 40, then wide right by two feet. Attempts No. 3 and No. 4 are perfect.
And then Folk moves back to a 45-yard attempt. It's a bad miss. Significantly wide right.
A stalemate for Thursday in the most interesting spring kicking battle in NFL history.