Tanking Is Good
June 21st, 2017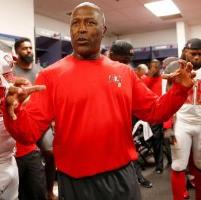 It seems tanking is suddenly an issue in the NFL.
Given how the Jets had a fire sale and went hell-bent on acquiring the first pick in the 2018 draft by signing Wrongo Starr, and last year the Browns publicly admitted they were not concerned about winning, some believe the NFL should step in and institute a dumb draft lottery system like the non-basketball association.
To rip off anything from that outfit would be the worst thing in the world!
Yes, teams tank to get better draft picks (read: quarterbacks). Hell, the Bucs mailed it in during the second half of the 2014 finale to win the Chase for Jameis, losing 23-20.
How inept were the Bucs then under lazy Lovie Smith? They almost screwed that up, nearly winning with the likes of Lavonte David being benched (thank you Tavarres King, for that franchise-changing bobble in the fourth quarter at midfield, where the football fell into the hands of Saints defender Keenan Lewis for a pick that stifled what looked to have been a potential scoring drive).
And Joe has zero problem with this tanking stuff. At all.
While this theory of tanking is not popular at all in NFL locker rooms, nor is it spoken in positive tones in coaches' offices, smart NFL suits welcome this practice. If you are not going to play for a playoff or a Super Bowl bid, then play for draft picks and lose, lose, lose.
For Bucs fans outraged at this thought, a bit of a history lesson. In 2006, the Bucs entered Week 16 with three wins. They won that week but lost in such a huge way it may have been the beginning of the end for Chucky.
Winning that useless game pushed the Bucs to the fourth pick in the draft. Tampa Bay finished with a 4-12 record and lost to the 4-12 Browns in a coin flip, meaning the top three picks were held by Oakland, Detroit and Cleveland. Two of the top players in the draft just happened to have been at positions the Bucs desperately needed, wide receiver (Calvin Johnson) and left tackle (Joe Thomas).
The Bucs had to sweat hoping either the Lions or Browns lost their minds and passed on Johnson or Thomas.
That didn't happen and the Bucs, with Johnson and Thomas off the board, reached for what turned out to be a walking corpse, defensive end Gaines Adams (who, after Chucky was fired, former Bucs rock star general manager Mark Dominik shipped to Chicago for a second round pick, robbing lazy Lovie Smith blind).
So for those who believe winning at all costs is the way to go, see if you can name the opponent the Bucs beat in such a vaunted victory that it cost the Bucs a chance to draft a Hall of Fame player. (Yes, Joe knows the answer). Just thinking about that makes Joe sick.
So if an NFL team doesn't have a shot of making a playoff push, Joe has zero issue with the team instead playing for the draft and getting young guys valuable playing time — and to hell with wins. The future for middling teams is what is important, not some five- or six-win season, or worse, blowing a chance at drafting a guy who could start for your team for a decade or more.